Domestic
Deeds attack shows that our system is a mess: Column. The stabbing of Virginia state Sen.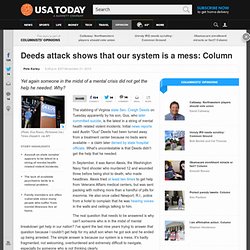 Creigh Deeds on Tuesday apparently by his son, Gus, who later committed suicide, is the latest in a string of mental health related violent incidents. Initial news reports said Austin "Gus" Deeds had been turned away from a treatment center because no beds were available -- a claim later denied by state hospital officials. What's uncontestable is that Deeds didn't get the help that he needed. Infrastructure Economic Multiplier. A recently published working paper from the San Francisco Fed shows that the fiscal multiplier of infrastructure spending is much larger than the typical government spending multiplier.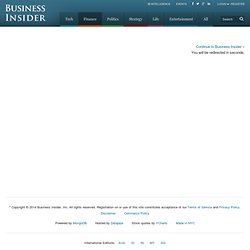 Sylvain Leduc and Daniel Wilson studied the effect of unexpected infrastructure grants on state GDPs (GSPs) since 1990 and found that, on average, each dollar of infrastructure spending increases the GSP by at least two dollars. Valerie Ramey, Professor of Economics at UC San Diego and member of the National Bureau of Economic Research, reports that the typical fiscal multiplier is between 0.5 and 1.5.
Leduc and Wilson note that their results serve as a validation of Keynesian economics: We find that unanticipated increases in highway spending have positive but temporary effects on GSP, both in the short and medium run. The short-run effect is consistent with a traditional Keynesian channel in which output increases because of a rise in aggregate demand, combined with slow-to-adjust prices. Death of Former Navy SEAL Chris Kyle Puts Spotlight on PTSD.
<br/><a href=" US News</a> | <a href=" Business News</a> Copy The shooting death of former Navy SEAL Chris Kyle, an advocate for veterans' mental health, has pushed the problem of post-traumatic stress disorder among American troops to the fore.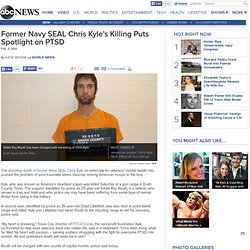 Taxes, Spending, Regulation and the Economy | Dispatches from the Culture Wars. An economist explains why the conservative argument that high corporate taxes and burdensome regulation are preventing businesses from hiring an prolonging the recession is false.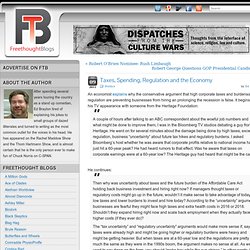 It begins with his TV appearance with someone from the Heritage Foundation: A couple of hours after talking to an ABC correspondent about the woeful job numbers and what might be done to improve them, I was in the Bloomberg TV studios debating a guy from Heritage. He went on for several minutes about the damage being done by high taxes, excess regulation, business "uncertainty" about future tax hikes and regulatory burdens. I asked Bloomberg's host whether he was aware that corporate profits relative to national income had just hit a 60-year peak? He had heard rumors to that effect. Homeland security spending: We'd have to foil 1,667 Times Square-style attacks every year to justify current spending on homeland security. - By John Mueller and Mark G. Stewart.
This is adapted from Mueller and Stewart's new Terror, Security, and Money: Balancing the Risks, Benefits, and Costs of Homeland Security.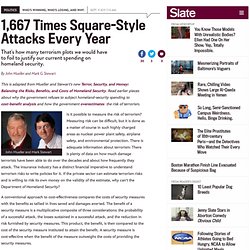 Read earlier pieces about why the government refuses to subject homeland-security spending to cost-benefit analysis and how the government overestimates the risk of terrorism. Is it possible to measure the risk of terrorism? Measuring risk can be difficult, but it is done as a matter of course in such highly charged areas as nuclear power plant safety, airplane safety, and environmental protection. The true cost of 9/11: Trillions and trillions wasted on wars, a fiscal catastrophe, and a weaker America. - By Joseph E. Stiglitz. The Sept. 11, 2001, terror attacks by al-Qaida were meant to harm the United States, and they did, but in ways that Osama Bin Laden probably never imagined.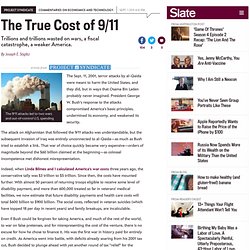 President George W. Bush's response to the attacks compromised America's basic principles, undermined its economy, and weakened its security. Out of Control: The Destructive Power of the Financial Markets - SPIEGEL ONLINE - News - International. The enemy looks friendly and unpretentious.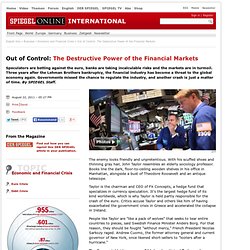 With his scuffed shoes and thinning gray hair, John Taylor resembles an elderly sociology professor. Books line the dark, floor-to-ceiling wooden shelves in his office in Manhattan, alongside a bust of Theodore Roosevelt and an antique telescope. William Barclay: The Bush tax cuts: A decade of economic disaster | Contributors. Call Off the Global Drug War.
---