Corporatocracy: Living in the UCA (United Corps. of America)
Wal-Mart Nixed Paying Bangladesh Suppliers to Fight Fire. At a meeting convened in 2011 to boost safety at Bangladesh garment factories, Wal-Mart Stores Inc.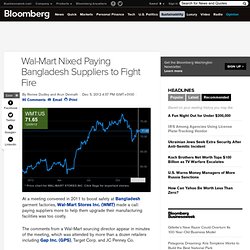 (WMT) made a call: paying suppliers more to help them upgrade their manufacturing facilities was too costly. The comments from a Wal-Mart sourcing director appear in minutes of the meeting, which was attended by more than a dozen retailers including Gap Inc. (GPS), Target Corp. and JC Penney Co. I-want-you-to-disagree-and-fight-amongst-each-other.jpg (JPEG Image, 500x500 pixels) More nutshell wisdom.
Even US Soldiers are Waking up to the New World Order. Price of drug to prevent preemies jumps from $20 to $1,500 after FDA approval - latimes.com. The price of a drug used to delay birth in women at high risk of delivering prematurely is going to skyrocket following Food and Drug Administration approval of a prescription form of the product, a synthetic form of the hormone progesterone.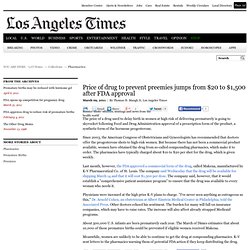 Since 2003, the American Congress of Obstetricians and Gynecologists has recommended that doctors offer the progesterone shots to high-risk women. But because there has not been a commercial product available, women have obtained the drug from so-called compounding pharmacies, which make it to order. The pharmacies have typically charged about $10 to $20 per shot for the drug, which is given weekly. Drug monopolies courtesy of government | Braincrave.com... where minds meet. Contrary to Wikipedia and its source - pseudo-economist Paul Samuelson, who was the "key to Keynes' influence" - there isn't any such thing as a natural monopoly.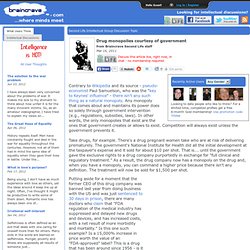 Any monopoly that comes about and maintains its power does so solely through government intervention (e.g., regulations, subsidies, laws). In other words, the only monopolies that exist are the ones that government creates or allows to exist. Competition will always exist unless the government prevents it. Take drugs, for example. There's a drug pregnant women take who are at risk of delivering prematurely.
America: The Grim Truth. American Corporatocracy. Citigroup attempts to disappear its Plutonomy Report #2. The reports are available (for the time being: 20 June 2011 here and here from Edward Fullbrook In 2005 and 2006 Citigroup issued two now notorious but highly significant reports for the exclusive use of its richest clients.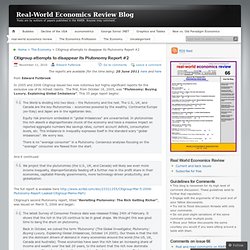 The first, from October 16, 2005, was "Plutonomy: Buying Luxury, Explaining Global Imbalance". This 35 page report begins: The World is dividing into two blocs – the Plutonomy and the rest. Countdown with Keith Olbermann Countdown with Keith Olbermann. Corporations Control Gov't.
Corporations Influencing Policy. Corporate Greed vs Public Interest.
---