BP Oil Disaster
What BP Doesn't Want You to Know About the 2010 Gulf Spill - Newsweek and The Daily Beast
"It's as safe as Dawn dishwashing liquid." That's what Jamie Griffin says the BP man told her about the smelly, rainbow-streaked gunk coating the floor of the "floating hotel" where Griffin was feeding hundreds of cleanup workers during the BP oil disaster in the Gulf of Mexico. Apparently, the workers were tracking the gunk inside on their boots. Griffin, as chief cook and maid, was trying to clean it.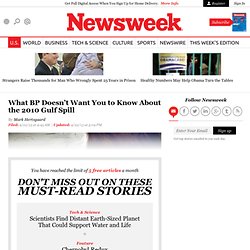 Emails expose BP's attempts to control research into impact of Gulf oil spill | Environment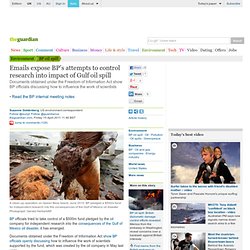 BP officials tried to take control of a $500m fund pledged by the oil company for independent research into the consequences of the Gulf of Mexico oil disaster, it has emerged. Documents obtained under the Freedom of Information Act show BP officials openly discussing how to influence the work of scientists supported by the fund, which was created by the oil company in May last year. Russell Putt, a BP environmental expert, wrote in an email to colleagues on 24 June 2010: "Can we 'direct' GRI [Gulf of Mexico Research Initiative] funding to a specific study (as we now see the governor's offices trying to do)? What influence do we have over the vessels/equipment driving the studies vs the questions?". The email was obtained by Greenpeace and shared with the Guardian.
Obama administration restricts findings on Gulf's dead dolphins
Are We Being Duped About the Gulf Oil Spill Being Fixed? - National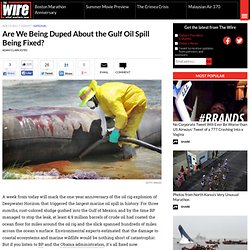 A week from today will mark the one-year anniversary of the oil rig explosion of Deepwater Horizon that triggered the largest marine oil spill in history. For three months, rust-colored sludge gushed into the Gulf of Mexico, and by the time BP managed to stop the leak, at least 4.9 million barrels of crude oil had coated the ocean floor for miles around the oil rig and the slick spanned hundreds of miles across the ocean's surface. Environmental experts estimated that the damage to coastal ecosystems and marine wildlife would be nothing short of catastrophic.
BP managers could face manslaughter charges over Gulf oil spill | Business
US authorities are considering charging BP managers with manslaughter after decisions they made before the Deepwater Horizon oil well explosion last year killed 11 workers and caused the biggest offshore spill in US history. Sources close to the process told Bloomberg that investigators were also examining whether BP's executives, including former chief executive Tony Hayward, made statements that were at odds with what they knew during congressional hearings last year. The US justice department opened criminal and civil investigations into the spill last June. The department filed a civil lawsuit against BP in December and has not filed criminal charges.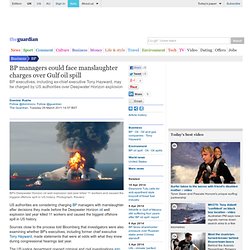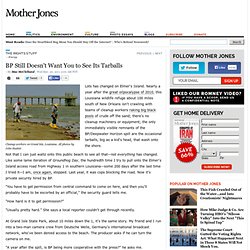 BP Still Doesn't Want You to See Its Tarballs
Cleanup workers on Grand Isle, Louisiana.
To Our Faithful Current.com Users: Current's run has ended after eight exciting years on air and online. The Current TV staff has appreciated your interest, support, participation and unflagging loyalty over the years.
BP dispersants 'causing sickness' - Features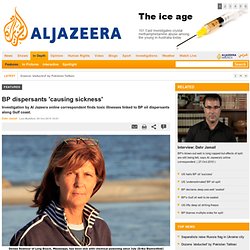 Two-year-old Gavin Tillman of Pass Christian, Mississippi, has been diagnosed with severe upper respiratory, sinus, and viral infections. His temperature has reached more than 39 degrees since September 15, yet his sicknesses continue to worsen. His parents, some doctors, and environmental consultants believe the child's ailments are linked to exposure to chemicals spilt by BP during its Gulf of Mexico oil disaster.
BP Says Settlement Terms in Spill Are Too Generous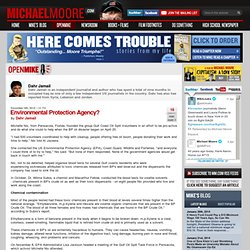 Environmental Protection Agency?
December 6th, 2010 1:06 PM By Dahr Jamail Michelle Nix, from Pensacola, Florida, founded the group Gulf Coast Oil Spill Volunteers in an effort to be pro-active and do what she could to help when the BP oil disaster began on April 20.
BP dispersants 'causing sickness' - Features
November 5, 2010 |
New Evidence Links BP to Health Crisis in the Gulf | Environment