Technology Enhanced Learning
Embeddable Google Document Viewer. Google Docs offers an undocumented feature that lets you embed PDF files and PowerPoint presentations in a web page.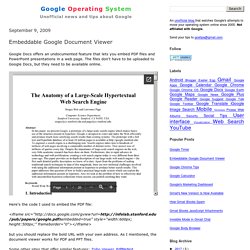 The files don't have to be uploaded to Google Docs, but they need to be available online. Here's the code I used to embed the PDF file: Free WordPress Theme - Bluemint. Bluemint is a 3 columns fixed width WordPress theme with customizable footer widgets developed by MagPress.com.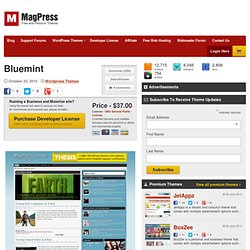 This WordPress template comes ready with an easy to use theme options page, Smoothgallery slider, Adsense ready, Twitter ready and many more. This work is licensed under a CC Share Alike 3.0 United States License. Wordpress › Log In. CityU's Teaching Ideas Gallery. Free WordPress Themes. Looking for the awesome WordPress themes?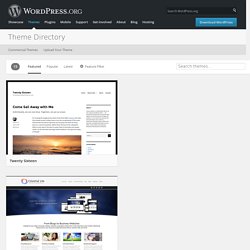 Here's the place to find them! Welcome to the Free WordPress Themes directory. Search below or check out our new filter and tag interface. 2,491 themes, 98,353,252 downloads, and counting Featured Themes. Teaching Ideas Gallery. FoodPress | Serving up the hottest dishes on WordPress.com.
---