Freelance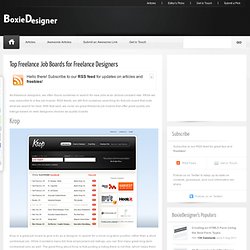 Top Freelance Job Boards for Freelance Designers | BoxieDesigner
Top Freelance Job Boards for Freelance Designers Hello there! Subscribe to our RSS feed for updates on articles and freebies ! As freelance designers, we often found ourselves in search for new jobs at an almost constant rate.
60 Freelance Job Sites | Jobs & Career Tips
How work gets done. Guaranteed!
PHP Programming Jobs