Food
Crock Pot Honey Sesame Chicken. I owe my mom for finding this recipe for me!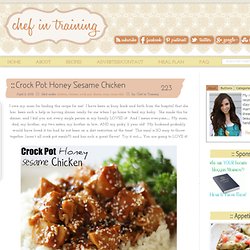 I have been so busy back and forth from the hospital that she has been such a help in having dinner ready for me when I go home to feed my baby. She made this for dinner, and I kid you not, every single person in my family LOVED it! And I mean everyone… My mom, dad, my brother, my two sisters, my brother in law, AND my picky 2 year old! Cream Cheese-Poppy Seed Pound Cake. Cream Cheese Breakfast Arepas See how to make beautiful cream cheese breakfast arepas. allrecipes.com Easy Cheese Ball II See how to make a 5-star cheese ball with Cheddar and cream cheese.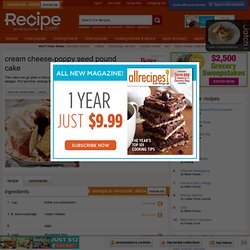 Creamy Chicken Lasagna. Muffins de Pâques pommes-amandes - Club Pâtissier Dr. Oetker - Toutes les recettes Dr Oetker. Sopapilla Cheesecake | my yellow umbrella. My friend, Kelsey, is amazing.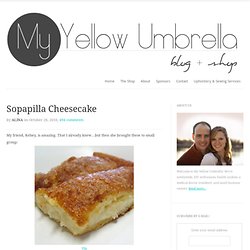 That I already knew…but then she brought these to small group: Ingredients:-2 cans pillsbury butter crescent rolls-2 (8oz) packages cream cheese (softened)-1 cup sugar-1 teaspoon vanilla-1/4 cup butter (melted)-Cinnamon & sugar Instructions: Unroll and spread 1 can crescent rolls on bottom of un-greased pan. Slow Cooker Honey Sesame Chicken Recipe. Need a quick, easy, and delicious slow cooker meal?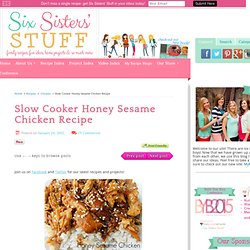 Well, look no further! We had this for dinner the other night and it instantly became a family favorite. I thought that the honey would make it super sweet, but it was the perfect amount of sweetness and flavor. It was a big hit with our kids and so easy to throw together- a winning combination in my book! Bloomin' Onion Bread. My husband and I waited tables at Outback Steakhouse while we were in college and ate our share of Bloomin' Onions.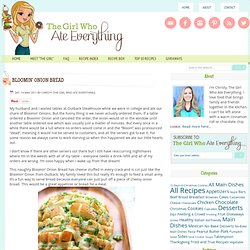 But the funny thing is we never actually ordered them. If a table ordered a Bloomin' Onion and canceled the order, the onion would sit in the window until another table ordered one which was usually just a matter of minutes. But every once in a while there would be a lull where no orders would come in and the "Bloom" was pronounced "dead", meaning it would not be served to customers, and all the servers got to eat it. Penne with Roasted Asparagus and Balsamic Butter. Let me take the liberty of ordering you around for a second: 1) Get yourself to the store and buy some fresh asparagus.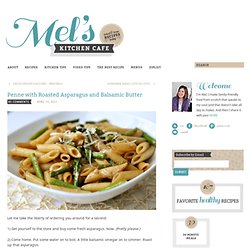 Now. Jolly Rancher Vodka Tutorial. Recette Far Breton - Far aux pruneaux - Cuisine Bretonne. (415 votes, moyenne: 3, 65 sur 5) Loading ...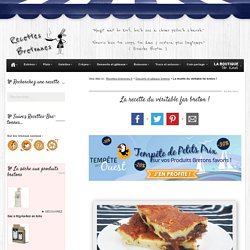 A accommoder avec des pommes ou des pruneaux, ou bien à déguster nature, le far breton est un incontournable de la cuisine bretonne. En plus il est très simple et rapide à réaliser, alors en cas de dessert de dernière minute, c'est l'occasion pour vous de concocter une recette simple qui plaira à tout le monde ! Ustensiles et cuisson :Pour effectuer cette recette, vous aurez besoin de :1 four1 moule1 saladier Préparation :15 minutesCuisson :60 minutesNote : 3.65 sur 5 - 415 votesNombre : pour 6 à 8 personnes. Honeycrisp Apple Sangria. Honeycrisp Apple Sangria Sangria isn't just for summer!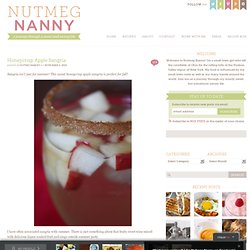 This sweet honeycrisp apple sangria is perfect for fall! I have often associated sangria with summer. There is just something about that fruity sweet wine mixed with delicious liquor soaked fruit and sings outside summer party. As I stared at a bowl full of honeycrisp apples I knew I had to do something with them before they went to waste. Coconut Cream Pie. Now the desire to make Coconut Cream Pie wasn't out of the blue.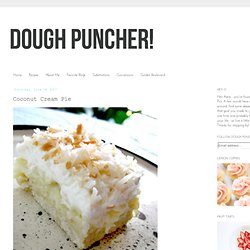 The company I work for has some. . um. . AWESOME perks. Like we get to taste test all sorts of goodies. Always With Butter. This simple little cake is only a few ingredients but still packs a great flavor.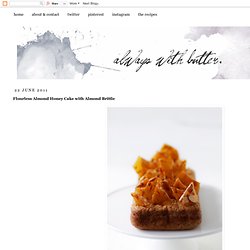 It has a nutty taste from toasting the almonds and the honey makes it sweet but not a sugar overload. When trying to figure out the decoration for the cake, because I knew I wouldn't like the look plain, I thought of powdered sugar. Mmm...is for Mommy: Easy Barbecued Ribs. I've never cooked ribs before. It's something I've left to the pros, like my favourite, favourite, favourite BBQ joint, Boneheads BBQ. When we were out shopping Thursday night though, there was a pretty good deal on some small packs of pork back ribs, so I decided to give it a go. Friday morning, I remembered that there was a barbecue rib recipe in my new America's Test Kitchen Slow Cooker Revolution cookbook and I knew it was going to be what I used. Like most good slow cooker recipes, this one does have a couple extra steps, but I loved that the extra steps were after the slow cooking, not before, because sometimes my cooking skills at 8 AM are not the sharpest.
The original recipe is fairly large and should be made in a large oval slow cooker. Stuffed Baguette. Stuffed Baguette A hollowed baguette obviously makes a perfect shell for any filling you are in the mood for. And once stuffed and properly chilled, it becomes a neat appetizer. This particular one is filled with all my favorite things: goat cheese/cream cheese, sun dried tomatoes, olives, spicy salami, crunchy bell pepper, and fresh herbs.
Crock-Pot Ladies Crock-Pot Cheesecake. Ingredients 3 8oz Packages of Philadelphia Cream Cheese 3 Eggs. Caramel Apple Sticky Buns. I'll just say it: I'm not a big fan of nuts on or in my cinnamon rolls or sticky buns. To me, big chunks of nuts are a distraction. A distraction from the pure, unabashed ridiculousness of the gooey, fattening rolls. Cooking Tips and Cooking Questions Answered. Every cook, being human, errs, bungles, botches, and screws up in the kitchen once in a while. If you have not "caramelized" fruit in salt rather than sugar, you have not suffered the most embarrassing mistake made by one of our editors. We did not have to look much farther than our staff―and their encounters with readers, friends, and relatives―to compile a list of common, avoidable culinary boo-boos. The creative cook can often cook her way out of a kitchen error, but the smart cook aims to prevent such creativity from being necessary.
Breakfast Recipe: The BEST Pancakes Ever! The Next Best Thing to Robert Redford | Itsy Bitsy Foodies. 15 Minute Creamy Avocado Pasta. Google Traduction. Gourmet Grilled Cheese: Tips from Ruth Reichl Gilt Taste. P1090089-1. Caramelized Onion Dip Recipe. Low-Calorie Fall Dessert Recipes. Chocolat d'Eté, Frais et Gourmand. The Pie That'll Make You Cry. Recipe for a Food + Flowers Fête. Mai Tai : Recette du Cocktail. Cake Central - The world's largest online cake decorating community. Cheese cake NY ( the true ) : Recette de Cheese cake NY ( the true )
Cookie Madness. Recette de Tartelettes au citron meringuées. Recette de Cherry white Chocolate & Almond Cheesecake. Tartinade d'avocat au citron vert : Recette de Tartinade d'avocat au citron vert. Gâteau d'automne aux noisettes - Club Pâtissier Dr. Oetker - Toutes les recettes Dr Oetker. Ppstyle. Bamkuch.
---