Home Server
Anyone Use Their Android Phone (Or Other Phone) With Whs? - We Got Served Forums. Hello, first time poster here!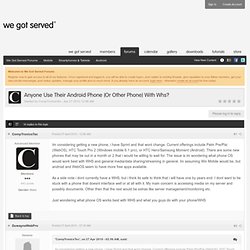 I wanted to share my experience with Android and WHS. I just got the HTC EVO 4G, and have been putting it through the wringer. I found an app on the Android marketplace called MeCanto, which is a cloud-based storage service for streaming music. The service is currently free, and has no limit on the number of songs, or storage space provided. To sum it up, you install a client (on a Windows based PC), after creating an account on their website. Installing Adito SSL VPN. Details Category: VPN Published: Monday, 09 March 2009 03:44 Written by Tony Hits: 62027.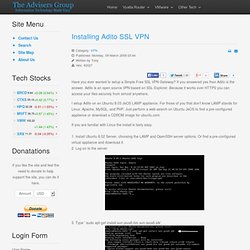 Adito vpn « Wonder How To. Hosting a website. NOTICE: making anything visible outside your network can open security issues, so you are doing this at your own risk.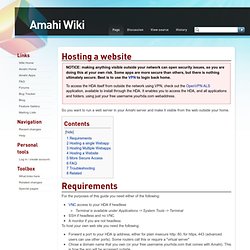 Some apps are more secure than others, but there is nothing ultimately secure. Best is to use the VPN to login back home. To access the HDA itself from outside the network using VPN, check out the OpenVPN ALS application, available to install through the HDA. Adito. OpenVPN Application Layer Software (ALS), formerly know as Adito, is a web-based SSL VPN server written in Java.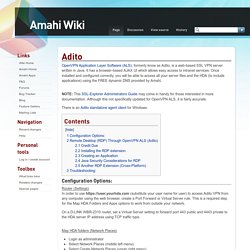 It has a browser-based AJAX UI which allows easy access to intranet services. Once installed and configured correctly, you will be able to access all your server files and the HDA (to include applications) using the FREE dynamic DNS provided by Amahi. Vista Networking Issue. Sometimes, Vista and Windows 7 don't resolve the host-only Amahi uses.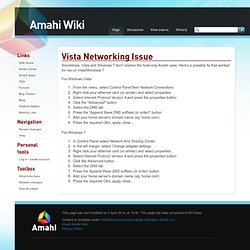 Here's a possible fix that worked for me on Vista/Windows 7 For Windows Vista From the menu, select Control Panel then Network Connections Right click your ethernet card (or similar) and select properties Select Internet Protocol Version 4 and press the properties button Click the "Advanced" button Select the DNS tab Press the "Append these DNS suffixes (in order)" button Add your home server's domain name (eg. home.com) Press the required OKs, apply, close ... For Windows 7 In Control Panel select Network And Sharing Center In the left margin, select 'Change adapter settings Right click your ethernet card (or similar) and select properties Select Internet Protocol Version 4 and press the properties button Click the Advanced button Select the DNS tab Press the Append these DNS suffixes (in order) button Add your home server's domain name (eg. home.com) Press the required OKs, apply, close ...
Wireless Windows 7 Laptop not connecting to Windows Home Server 2003. Home Server Hacks: Running Windows Home Server Connector on Windows 7. Beginning tomorrow, January 9th, you will be able to download Windows 7 from the Windows 7 page on Microsoft.com.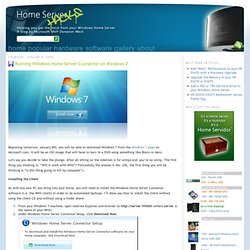 It will be an ISO image that will have to burn to a DVD using something like Roxio or Nero. Let's say you decide to take the plunge. Free Music Streamer. Subsonic is a free, web-based media streamer, providing ubiquitous access to your music.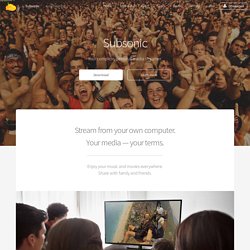 Use it to share your music with friends, or to listen to your own music while at work. You can stream to multiple players simultaneously, for instance to one player in your kitchen and another in your living room. Subsonic is designed to handle very large music collections (hundreds of gigabytes). Although optimized for MP3 streaming, it works for any audio or video format that can stream over HTTP, for instance AAC and OGG. By using transcoder plug-ins, Subsonic supports on-the-fly conversion and streaming of virtually any audio format, including WMA, FLAC, APE, Musepack, WavPack and Shorten. 4 Easy Ways To Stream Your Music Online. A while back, Damien published a great article on How To Install And Setup Jinzora Media Server In Ubuntu.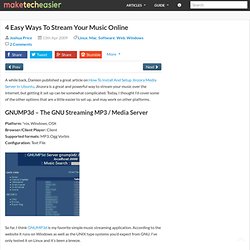 Jinzora is a great and powerful way to stream your music over the internet, but getting it set up can be somewhat complicated. Today, I thought I'd cover some of the other options that are a little easier to set up, and may work on other platforms. Stream music from WHS to your cell phone!: MediaSmart Home. Member Joined: 10/28/2009 As anyone who has read my previous posts knows, I'm a BIG fan of Subsonic for media streaming on WHS.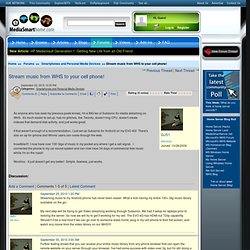 It's much easier to set up, has no glitches, like Twonky, doesn't hog CPU, doesn't create indexes that demand disk activity, and just works great. If that weren't enough of a recommendation, I just set up Subsonic for Android on my EVO 4G! Turbo Charge Your New XBMC Installation. I'd also recommend checking out Media Companion. [www.billyad2000.co.uk] It's a stand alone library scraper. You run it on your PC, so when XBMC is looking for all that scraper info, it finds it alongside the the media itself, and just pulls it from there, rather than trying to download it all from the net. Build a Silent, Standalone XBMC Media Center On the Cheap. A HTPC Media Center for free! - MEDIAPORTAL. Turn Your XBMC Media Center into a Video Game Console. Congrats, you once again timed your post exactly right.A week ago I was tryijng to acheive exactly this :D Thanks! @Igor: It's like I'm in your miiiiiiind! ;-) Feature Gallery for the Amahi Home Server. Stream your digital media to all devices in your network, with the DLNA server app or with the AmahiTunes app or any of several others.
Stream to iTunes, the iPhone/iPad/iPod, connected TVs, Set-top boxes, Rhythmbox clients and other SW and HW clients. Learn more Storage Pooling is a technology to pool disk drives and make them look as if they were all part of a single pool of disk space. Greyhole is the implementation behind Storage Pooling technology in Amahi. Themes, VoIP/PBX, Amahi 5.5 ready! And the winners are ... | Amahi Blog.
Wow! We are blown away with the innovative ways in which the community responded to the theme and app contest! We got 9 new themes, which we are releasing live today (screenshots below) and we even have a top notch VoIP/PBX app, FusionPBX and a hot full-disk backup solution, Redo Backup, in progress! How-To for editing a Wiki - We Got Served Wiki. The server encountered an internal error or misconfiguration and was unable to complete your request. Please contact the server administrator, webmaster@wiki.wegotserved.com and inform them of the time the error occurred, and anything you might have done that may have caused the error.
More information about this error may be available in the server error log. Additionally, a 500 Internal Server Error error was encountered while trying to use an ErrorDocument to handle the request. Fedora 12 Enable root login in GUI. Fedora 12 uses pam module called pam_succeed_if.so. This module is designed to succeed or fail authentication based on characterstics of the account of the authenticated user. Default configuration of this module blocks root login using GUI. Open the terminal and use vim or gedit to open the /etc/pam.d/gdm. Self-install-existing. Hosting a Wiki on WHS. MediaSmartServer.net — The Windows Home Server Enthusiast Community. Remote Access: What ports do I need to forward from my broadband router/firewall to my home server for remote access? Nothing found for 2009 04 06 Windows-home-server-disk-management.
Root login on Fedora 12 | LinuxReaders. Vista won't install on my ASUS A8N SLI Deluxe. Installing Whs With An A8N-Sli Premium Mobo = No Luck! Help - We Got Served Forums. How-To: Install WordPress on Windows Home Server. Active Directory On Windows Home Server - We Got Served Wiki. Windows Home Server Addins. Profile and Folder Redirection In Windows Server 2003. µTorrent add-in. WebGuide: Windows Home Server. Recorded TV Manager Add-in for Windows Home Server.
Embedded Automation - Home Automation (mHome Products) - mControl.
---