Visualization
Grabba Beast. GoAnimate4Schools_Joanna. GoAnimate for Schools and Educators. Wondersay - Animate text with style. BrainPOP - Animated Educational Site. Being Creative Takes Time. Thinkmap Visual Thesaurus - An online thesaurus and dictionary o. 8 Free Tools to Visualize Information on Twitter. Another interesting way to filter through what is being said on Twitter, and better yet, analyse it, is to visualize it.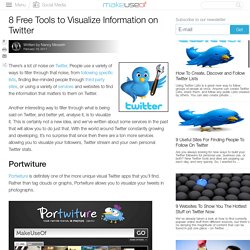 This is certainly not a new idea, and we've written about some services in the past that will allow you to do just that. With the world around Twitter constantly growing and developing, it's no surprise that since then there are a ton more services allowing you to visualize your followers, Twitter stream and your own personal Twitter stats. Visuwords - graphical dictionary and thesaurus. Scribble Maps - Create custom google maps with scribblings and more! Dabbleboard - Online whiteboard for drawing & team collaboration.
SmartDraw - Communicate Visually. Mindomo _ Mind mapping. Trailmeme. Free Icons Download - Icons,Free Icons,Stock Icons,Vista Icons,D. Pixuffle - Shuffle pixels to create unique compositions! Flip Text » Write Upside Down. Cool Tools: Legally Using Web 2.0 Tools to Spice Up Your Trainin. StoryCorps. SimpleDiagrams. The Graffiti Creator.
---