Insight
www.jwtintelligence.com/wp-content/uploads/2012/04/F_INTERNAL_Gen_Z_0418122.pdf
Il SocialMediAbility delle Aziende Italiane
Many Eyes
We all know how social media has impacted our personal lives. How has this impacted the way that people work? Has it made employees more or less productive?
How Social Media Has Changed the Workplace [Study]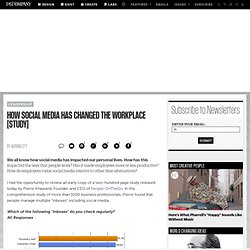 Online Branded Communities Grow Up
Shopping Reinvented: Next Generation Apparel Retailing
Les études sur les nouveaux comportements liées aux médias sociaux sont à la mode, en voici une dédiée à Twitter. L'IFOP a réalisé ce travail pour BNP-PARIBAS, fin 2009, sur un échantillon représentatif de 1052 personnes. Plan de l'étude : Notoriété des plateformes de microbloggingÉvolution de la notoriété de twitterSource de publication des tweetsUtilisation du microblogging par les utilisateursutilité perçue par les non-inscrits Allons directement à l'essentiel avec les principaux résultats de l'étude : - 60% des internautes ont déjà entendu parler de Twitter (4% en 2008) alors que 96% n'ont jamais entendu parler de Friendfeed.
Etude – Les Internautes et Twitter | LE MARKETING SUR LE WEB