Fashion new post
Fashion, Social Media + Mobile Marketing Blog » Fabricly: The New Kid On The Crowdsourcing Block. Tech Crunch reports that Y Combinator-funded startup, Fabricly, has raised $400,000 from Atomico Ventures.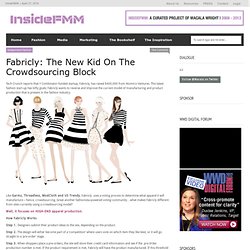 This latest fashion start-up has lofty goals; Fabricly wants to reverse and improve the current model of manufacturing and product production that is present in the fashion industry. Like Garmz, Threadless, ModCloth and US Trendy, Fabricly uses a voting process to determine what apparel it will manufacture – hence, crowdsourcing. Great another fashionista-powered voting community…what makes Fabricly different from sites currently using a crowdsourcing model?
Well, it focuses on HIGH-END apparel production. Is not available. Gap and Foursquare's love affair has taken a new turn this morning, with the retailer debuting an ad campaign featuring interactive "Add to Foursquare" buttons integrated within online ads.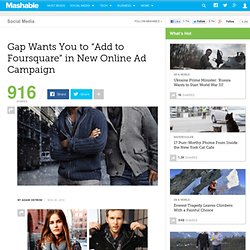 The ads — which are running on a wide variety of sites including Mashable, Gawker and Conde Nast properties — feature Gap holiday fashions and deals along with the Foursquare button, which when clicked, adds a Gap to-do and enables a 30% discount on one regular priced Gap item. The ads are location-aware too; users will be able to associate the to-do with a nearby store and be reminded of it when they're nearby and pull up "Places" within Foursquare. Google Launches Personalized Fashion Shop Boutiques.com. Google launched a personalized online fashion shop Boutiques.com, letting users visually search and discover fashion goods as well as create their own fashion boutique.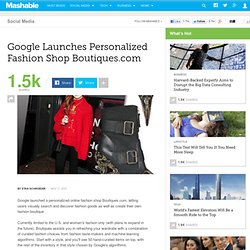 Currently limited to the U.S. and women's fashion only (with plans to expand in the future), Boutiques assists you in refreshing your wardrobe with a combination of curated fashion choices from fashion taste-makers and machine learning algorithms. Start with a style, and you'll see 50 hand-curated items on top, with the rest of the inventory in that style chosen by Google's algorithms. Features include the ability to filter searches by genre, silhouette, pattern, color families and sizes, as well as visual search, which analyzes the photograph of a clothing item for its color, shape, and pattern and then returns visually similar items. Shopping Reinvented: Next Generation Apparel Retailing.
---