ICT security
U.S. said to be target of massive cyber-espionage campaign. The report, which represents the consensus view of the U.S. intelligence community, describes a wide range of sectors that have been the focus of hacking over the past five years, including energy, finance, information technology, aerospace and automotives, according to the individuals familiar with the report, who spoke on the condition of anonymity about the classified document.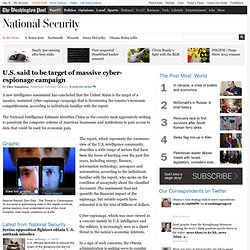 The assessment does not quantify the financial impact of the espionage, but outside experts have estimated it in the tens of billions of dollars. Cyber-espionage, which was once viewed as a concern mainly by U.S. intelligence and the military, is increasingly seen as a direct threat to the nation's economic interests. In a sign of such concerns, the Obama administration is seeking ways to counter the online theft of trade secrets, according to officials. Le blog de l'export UBIFRANCE : pour le développement international des TPE-PME.
Evalué à 6 Mds EUR, le marché de la sécurité informatique connaît depuis quelques années une croissance régulière, notamment suite à une prise de conscience des problèmes liés à la cybercriminalité et à une utilisation accrue des Smartphones, ainsi que des tablettes et des ordinateurs portables.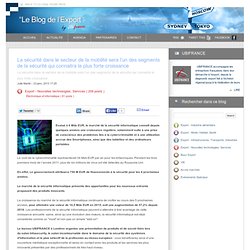 Le coût de la cybercriminalité représenterait 34 Mds EUR par an pour les britanniques. Pendant les trois premiers mois de l'année 2011, plus de six millions de virus ont été détectés au Royaume-Uni. En effet, Le gouvernement attribuera 750 M EUR de financements à la sécurité pour les 4 prochaines années. Cybersecurity tops terrorism as US public's security priority. Nearly three-quarters of the people surveyed said that presidential candidates should make cybersecurity a priority, such as protection of government computer systems and critical infrastructure from cyber attacks, while 68% cited terrorism as a priority, according to the Unisys Security Index.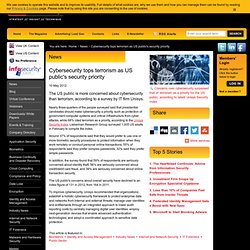 Lieberman Research Group surveyed 1,005 US adults in February to compile the index. Around 37% of respondents said that they would prefer to use one or more biometric security procedures to protect information when they work remotely or conduct personal online transactions; 55% of respondents said they prefer complex passwords; 32% said they prefer simple passwords. In addition, the survey found that 59% of respondents are seriously concerned about identity theft, 56% are seriously concerned about credit/debit card fraud, and 39% are seriously concerned about online transaction security. FP7 : ICT : Security : Projects. TDL | Trust in Digital Life - A Consortium focusing on TRUST for our Digital Life. TDL | Trust in Digital Life - Background Information on Actor. Welcome to TWISNet consortium public and private information data base. — TWISNet. FP7 : ICT : Security.
The primary mission of the Unit "Trust and Security" (H4) of the European Commission's Directorate General for Communications Networks, Content and Technology (CONNECT) is to support and coordinate research for the development of trustworthy ICTs that respect citizens' rights and protect their privacy and personal data.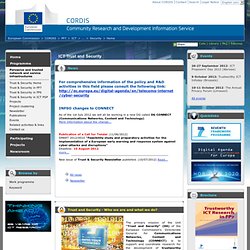 The ambition is to coherently address security, trust and privacy from a technological, economic, legal and social perspective, in an effort to ensure innovation and economic growth in a society providing freedom and security for its citizens. Research priorities are strongly related to the development of the Future Internet and target: trustworthy network and service infrastructures, user-centric identity and privacy management and technologies for secure software development, trusted computing, cryptology and advanced biometrics.
Support to interoperability and standardisation is given when appropriate, to strengthen the societal impact of the technology results. FP7-DEMONS.eu. Oversee - Home. About ABC4Trust. Welcome to Aniketos | ANIKETOS. PrimeLife - Privacy and Identity Management in Europe for Life. HIDE FP7 Dynamic Database. News Newsletter We are please to inform you that with September 30, 2010 we released Newsletter #10.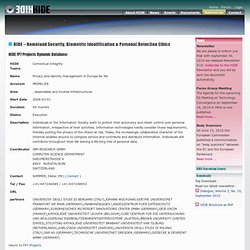 Subscribe to the HIDE Newsletter and you will be sent the document automaticly. Focus Group Meeting The Agenda for the upcoming FG Meeting on Technology Convergence on September 14, 2010 in Paris is now published. Read more ... Body Scanners On June 15, 2010 the European Commission published a communication on "body scanners" between the EC and the European Parliament. SEPIA - Secure Embedded Platform with advanced Isolation and Anonymity Capabilities. Neelie Kroes unveils EU cybersecurity strategy. The European Commission has published two documents aimed at improving online security for citizens and businesses within the EU.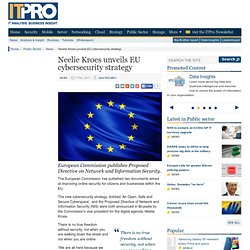 The new cybersecurity strategy, dubbed 'An Open, Safe and Secure Cyberspace', and the Proposed Directive of Network and Information Security (NIS) were both announced in Brussels by the Commission's vice president for the digital agenda, Neelie Kroes. There is no true freedom without security, not when you are walking down the street and not when you are online There is no true freedom without security, not when you are walking down the street and not when you are online.
---