The war on whistleblowers
Whistle Blower Threatened with 35 Years in Prison, Warns of Developing Tyranny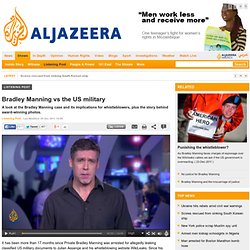 Bradley Manning vs the US military - Listening Post
It has been more than 17 months since Private Bradley Manning was arrested for allegedly leaking classified US military documents to Julian Assange and his whistleblowing website WikiLeaks. Since his detention, there has been news of torture, solitary confinement and mistreatment by prison guards.
Private Manning's Humiliation by Bruce Ackerman and Yochai Benkler
Bradley Manning is the soldier charged with leaking US government documents to Wikileaks. He is currently detained under degrading and inhumane conditions that are illegal and immoral. For nine months, Manning has been confined to his cell for twenty-three hours a day.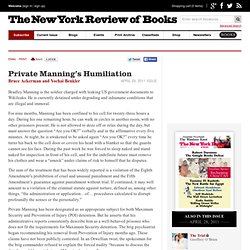 August 8, 2010 |
In Support of Imprisoned Wikileaks Whistleblower Pvt. Bradley Manning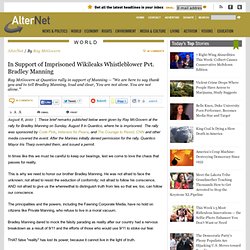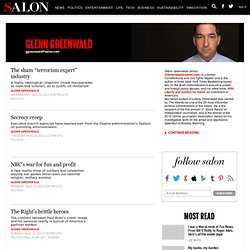 Last day at Salon Glenn Greenwald Wednesday, Aug 15, 2012 9:30 PM UTC Politics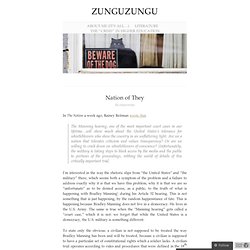 Nation of They
In The Nation a week ago, Rainey Reitman wrote that
[2010] The Bradley Manning leaks
Pvt Manning proves 'slippery slope'
Bradley Manning, the Army intelligence analyst accused of leaking a massive trove of classified material to WikiLeaks, has been imprisoned since May 2010. The treatment to which he has been subjected, including protracted isolation, systematic humiliations and routinised sleep deprivation, got more extreme last week when the commander of the brig at Quantico, Virginia, imposed on him a regime of forced nakedness at night and during an inspection of his cell every morning until his clothing is returned.
After 17 months of pre-trial imprisonment, Bradley Manning, the 23-year-old US army private and accused WikiLeaks source, is finally going to see the inside of a courtroom.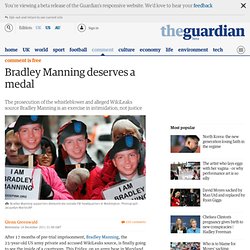 Bradley Manning deserves a medal | Glenn Greenwald | Comment is free
As a young lawyer, Obama represented a whistleblower; as a presidential candidate, he pledged to "strengthen whistleblower laws to protect federal workers who expose waste, fraud, and abuse of authority in government." But as president, Obama has unleashed the most aggressive assault on whistleblowers Washington has ever seen—surpassing even George W. Bush. The latest example comes in a remarkable prosecution of Steven Kim, a well-known scholar of North Korea's nuclear program. Like most area experts at the top of the game, Kim does consulting for the State Department. He works for Lawrence Livermore Labs and was on secondment to the State Department at the time of the events in question.
Obama's War on Whistleblowers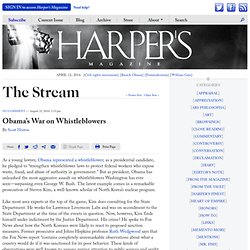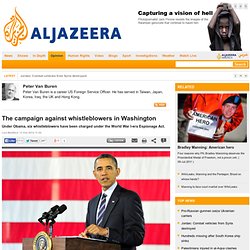 Washington, DC - On January 23, the Obama administration charged former CIA officer John Kiriakou under the Espionage Act for disclosing classified information to journalists about the waterboarding of al-Qaeda suspects.
The campaign against whistleblowers in Washington
Take a Stand for Whistleblower Protections: Tell Your Rep. to Defend Robert MacLean:
In a just released, lengthy New Yorker article, Jane Mayer — with the diligence and thoroughness she used to expose the Bush torture regime — examines a topic I've written about many times here: the Obama administration's unprecedented war on whistleblowers generally, and its persecution of NSA whistleblower Thomas Drake in particular (Drake exposed massive waste, excess and perhaps illegality in numerous NSA programs). Mayer's article is what I'd describe as the must-read magazine article of the month, and I encourage everyone to read it in its entirety, but I just want to highlight a few passages. First, we have this: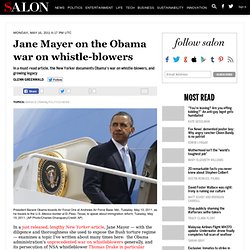 Jane Mayer on the Obama war on whistle-blowers - Glenn Greenwald
Feb 22, 2012 2:29pm (Note: White House press secretary Jay Carney began today's briefing by praising journalists who have died covering the unrest in Syria: Marie Colvin and Rémi Ochlik as well as Anthony Shadid.) TAPPER: The White House keeps praising these journalists who are — who've been killed –
The WH Loves Aggressive Journalism — Abroad — Today's Q's for O's WH — 2/22/2012
WASHINGTON — Meet John Kiriakou. A married father with a baby and two small children at home, he once had a fulfilling job as a CIA operations officer and spent his early post-9/11 days "hunting down [al] Qaeda figures" in Pakistan for his country. If only he kept his mouth shut.
Meet John Kiriakou by Kelley B. Vlahos
Charges Against the N.S.A.'s Thomas Drake
On June 13th, a fifty-four-year-old former government employee named Thomas Drake is scheduled to appear in a courtroom in Baltimore, where he will face some of the gravest charges that can be brought against an American citizen. A former senior executive at the National Security Agency, the government's electronic-espionage service, he is accused, in essence, of being an enemy of the state.
Jesselyn Radack | When whistle-blowers suffer
The case of Thomas A. Drake, a former official indicted last week on charges of providing classified information to a Baltimore Sun reporter, is painfully familiar.
Click on the image ablove to watch Drake's segment on 60 Minutes Thomas Drake is a patriot who has dedicated his life to safeguarding his country. A ten-year veteran of the Air Force (specializing in intelligence), he served as a CIA analyst and contractor for the National Security Agency (NSA) for 12 years before joining it full time in 2001. Drake took his oath to support and defend the U.S.
NSA Whistleblower Tom Drake - Government Accountability Project
WikiLeaks, whistleblowers and wars