The privatization of war...
Get flash to fully experience Pearltrees
Quel est le métier le plus dangereux dans les forces USA/OTAN en Afghanistan ?
The embassy is the largest US mission in the world and will cost nearly $4bn to operate [EPA] Baghdad, Iraq - It is a multi-million dollar programme which Iraqi officials have said they do not need, a US watchdog has called a "bottomless pit", and the US embassy here considers a key part of its relationship with post-occupation Iraq. The State Department will spend nearly $1bn in 2012 on a police training programme, the largest operation at the sprawling US embassy here. Dozens of former US police officers have been hired to teach their Iraqi counterparts about arrests and investigations, DNA evidence, and basic managerial tasks. Their resumes are impressive, most with decades of experience in domestic and international law enforcement.
Every time a Blackwater centurion discharged his weapon in Iraq, the company filed a written report with the U.S. State Department. Blackwater shot Iraq to shit. Here are the reports. Blackwater, the private mercenary firm that became synonymous with Bush-era war profiteering and reckless combat-tourism, announced yesterday that it has changed its name to Academi (after a previous incarnation as Xe Services) in a bid to distance itself from its history of wanton lawlessness. We've obtained a 4,500-page record of that history in the form of State Department incident reports documenting every time a Blackwater guard shot at an Iraqi between 2005 and 2007.
Following a legal complaint made by Erinys International Limited, the Guardian agreed to publish this statement from the firm concerning this article: Erinys Iraq Ltd had a contract with the US Army Corps of Engineers from 2003 to 2007. That contract obliged Erinys to follow the Rules for Use of Force ("RUF") and Rules for Escalation of Force ("EOF") as laid down in US Army Regulations 19014 on the "Carrying of Firearms and Use of Force for Law Enforcement and Security Duties", as issued in March 1993. These rules prohibit warning shots and shots that might endanger bystanders. All shots must be aimed shots and must only be fired in self-defence. All Erinys staff were issued with a summary of these rules and were given regular training on them.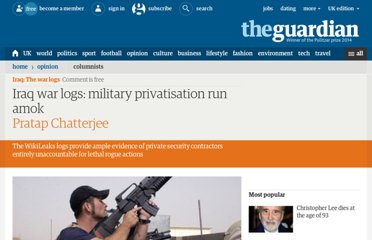 McClatchy reports from Baghdad that Iraqi eyewitnesses maintain that Blackwater security guards fired at civilians without provocation on Sunday, in contrast to the company's own story about the incident. Probably they were firing at a car that neglected to stop when told to, or neglected to stop fast enough. Since such vehicles might be driven by suicide bombers, American military and civilian security forces have often opened fire on innocent Iraqis who just did not hear or did not understand the command to halt their vehicles, or who panicked and sped up. The offending car in this instance had a family of three in it, including a toddler who ended up being melted to his mother's body in the resulting conflagration.
Much has been said on the narrow field of mercenaries, but less has been researched on the context in which this phenomenon occurs. It is to address the broader spectrum of this complex problem that the Institute for Security Studies and the Canadian Council for International Peace and Security undertook a collaborative project over more than eighteen months that has now culminated in the publication of this book. It aims to contribute to an understanding of the trend towards the privatisation of security—and even of war—in Africa within its wider context. The book first deals with globalisation and the growth of the private security industry in Africa (Peter Lock); the crisis in external response (Mark Malan); and the collapse of the African state (Richard Cornwell).
Private corporations have penetrated western warfare so deeply that they are now the second biggest contributor to coalition forces in Iraq after the Pentagon, a Guardian investigation has established. While the official coalition figures list the British as the second largest contingent with around 9,900 troops, they are narrowly outnumbered by the 10,000 private military contractors now on the ground. The investigation has also discovered that the proportion of contracted security personnel in the firing line is 10 times greater than during the first Gulf war. In 1991, for every private contractor, there were about 100 servicemen and women; now there are 10. The private sector is so firmly embedded in combat, occupation and peacekeeping duties that the phenomenon may have reached the point of no return: the US military would struggle to wage war without it.
As U.S. military deaths and injuries from roadside bombs escalated after the invasion of Iraq, the Pentagon rushed to find solutions.
The rush to war in the months following the terrorist attacks of 9/11 created an urgency in the Pentagon, not just for military operations but also for contracting.