Policing & Prisons...
With Nato delegates arriving Saturday night, the City of Chicago has been turned into a police state. Courtesy of Mayor Rahm Emanuel, who several months ago began implementing new draconian anti-protest measures, Chicago has gone on security lockdown. Starting early Friday night, 18 May 2012, the Chicago Police Department began shutting down – prohibiting cars, bikes, and pedestrians – miles and miles of highways and roads in the heart of Chicago to create a security perimeter around downtown and McCormick Place (where the Nato summit is being held).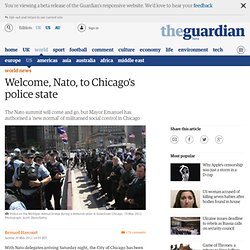 Welcome, Nato, to Chicago's police state | Bernard Harcourt | Comment is free
Prison Rape and the Government by David Kaiser and Lovisa Stannow
Sexual Victimization Reported by Adult Correctional Authorities, 2007–2008 by Allen J. Beck and Paul Guerino National Standards to Prevent, Detect, and Respond to Prison Rape: Notice of Proposed Rulemaking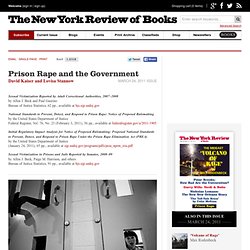 Immigration is a key issue in the US presidential election, with the Republican candidates trying to demonstrate their tough stance on undocumented immigrants. But under the Obama administration, the detention and deportation of immigrants has reached an all-time high. Every day, the US government detains more than 33,000 non-citizens at the cost of $5.5mn a day. That is a lot of money for the powerful private prison industry, which spends millions of dollars on lobbying and now operates nearly half of the country's immigration detention centres.
Punishment and Profits: Immigration Detention - Fault Lines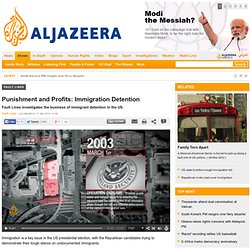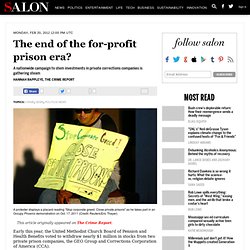 The end of the for-profit prison era?
Early this year, the United Methodist Church Board of Pension and Health Benefits voted to withdraw nearly $1 million in stocks from two private prison companies, the GEO Group and Corrections Corporation of America (CCA). The decision by the largest faith-based pension fund in the United States came in response to concerns expressed last May by the church's immigration task force and a group of national activists. "Our board simply felt that it did not want to profit from the business of incarcerating others," said Colette Nies, managing director of communications for the board. "Our concern was not with how the companies manage or operate their business, but with the service that the companies offer," Nies added. "We believe that profiting from incarceration is contrary to church values."
Property laws? Civil Liberties? Not when they stand in the way of profits: "Corrections Corporation of America (CCA) has reached out to 48 states as part of a $250 million plan to own existing prisons and manage their operations. But in return CCA wants a 20-year contract and assurances that the state will keep the prisons at least 90% full." -AllGov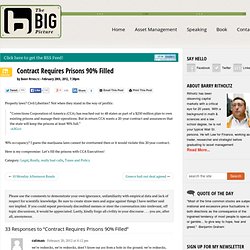 Contract Requires Prisons 90% Filled
Private Prison Companies Want You Locked Up — Justice Policy Institute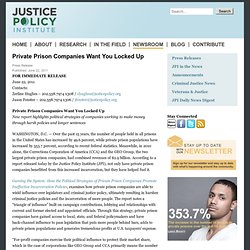 Press Release Published: June 22, 2011 FOR IMMEDIATE RELEASEJune 22, 2011Contacts:Zerline Hughes – 202.558.7974 x308 / zhughes@justicepolicy.orgJason Fenster – 202.558.7974 x306 / jfenster@justicepolicy.org Private Prison Companies Want You Locked UpNew report highlights political strategies of companies working to make money through harsh policies and longer sentences WASHINGTON, D.C. — Over the past 15 years, the number of people held in all prisons in the United States has increased by 49.6 percent, while private prison populations have increased by 353.7 percent, according to recent federal statistics.
The GEO Group Inc.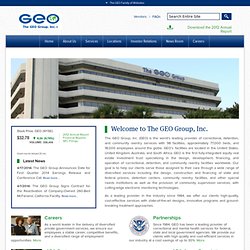 The GEO Group, Inc. (GEO) is the world's leading provider of correctional, detention, and community reentry services with 98 facilities, approximately 77,000 beds, and 18,000 employees around the globe. GEO's facilities are located in the United States, United Kingdom, Australia, and South Africa. GEO is the first fully-integrated equity real estate investment trust specializing in the design, development, financing, and operation of correctional, detention, and community reentry facilities worldwide. Our goal is to help our clients serve those assigned to their care through a wide range of diversified services including the design, construction and financing of state and federal prisons, detention centers, community reentry facilities, and other special needs institutions as well as the provision of community supervision services, with cutting-edge electronic monitoring technologies.
CCA
Arizona prison businesses are big political contributors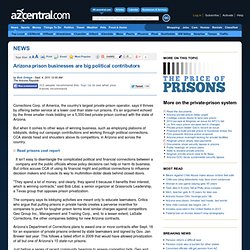 by Bob Ortega - Sept. 4, 2011 12:00 AM The Arizona Republic Corrections Corp. of America, the country's largest private-prison operator, says it thrives by offering better service at a lower cost than state-run prisons. It's an argument echoed by the three smaller rivals bidding on a 5,000-bed private-prison contract with the state of Arizona. But when it comes to other ways of winning business, such as employing platoons of lobbyists, doling out campaign contributions and working through political connections, CCA stands head and shoulders above its competitors, in Arizona and across the country. Read prisons cost report
By Lee Fang posted Apr 20th 2012 at 9:04AM Last year, over 850,000 people in America were arrested for marijuana-related crimes. Despite public opinion , the medical community, and human rights experts all moving in favor of relaxing marijuana prohibition laws, little has changed in terms of policy. There have been many great books and articles detailing the history of the drug war.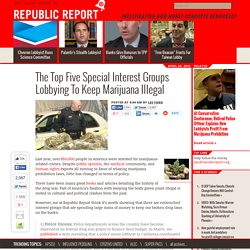 Video: Incarceration, Inc.
At the height of the Occupy Wall Street evictions, it seemed as though some diminutive version of "shock and awe" had stumbled from Baghdad, Iraq, to Oakland, Calif. American police forces had been "militarized," many commentators worried, as though the firepower and callous tactics on display were anomalies, surprises bursting upon us from nowhere. There should have been no surprise. Those flash grenades exploding in Oakland and the sound cannons on New York's streets simply opened small windows onto a national policing landscape long in the process of militarization — a bleak domestic no man's land marked by tanks and drones, robot bomb detectors, grenade launchers, tasers, and most of all, interlinked video surveillance cameras and information databases growing quietly on unobtrusive server farms everywhere.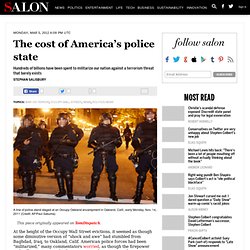 The cost of America's police state
Today, in downtown Oakland, @marymad took a picture of this beast, which was used to intimidate crowds of May Day marchers: Gavin Aronsen of Mother Jones got this shot of it from inside Awaken cafe (""Oooooooh," everyone at Awaken Cafe exclaimed as this Alameda County tank-looking thing rolled by," he tweeted): Naturally, you are asking yourself, how is it that a cash-strapped city like Oakland can afford a monster like this? Well, luckily, Dave Gilson of Mother Jones has your answers, flagging and tweeting a request from the Alameda Sheriff's Department to bypass the competitive bid process and purchase this beauty — from Xe, better known as Blackwater — for the bargain basement price of only $323,000. Lest you think this is an unfair price, our dear Sheriff Ahern helpfully describes the pressing need which requires its purchase:
A Snapshot of Your Security-Industrial Complex
Americans get a Shabak Education
Irvine, CA - It was a term that has stuck with me since a Palestinian friend in the Ajami neighbourhood of Jaffa first used it in response to one of my more naive questions. "Why don't you all do more to protest against the on-going expropriation of land and discrimination against local residents by the Israeli government?" I asked him on a typically sunny summer day, as we stood in front of yet another luxury housing development being constructed on formerly Palestinian land. "Because we've all received a good Shabak education," he answered. The education in question, was dispensed by the Shabak, or Shin Bet, Israel's state security services, to keep the country's Palestinian population from protesting too vigorously against the policies that have kept them second class citizens despite the official political equality granted to them by the Israeli state.
Duke University Press, internationally recognized as a prominent publisher of books and journals, publishes approximately 120 books annually and over 40 journals, as well as offering five electronic collections. A not-for-profit scholarly publisher, Duke University Press is best known for publishing in the humanities and social sciences. Sign up for Subject Matters email updates to receive discounts, new book announcements, and more. Join our list. Read excerpts from our new books on Scribd. Our Spring 2014 catalog is now available online.
Warfare in the American Homeland: Policing and Prison in a Penal Democracy
This article originally appeared at TomDispatch.com. To stay on top of important articles like these, sign up to receive the latest updates from TomDispatch.com. Click here to catch Timothy MacBain's latest Tomcast audio interview in which Salisbury discusses post-9/11 police "mission creep" in this country, or download it to your iPod here. At the height of the Occupy Wall Street evictions, it seemed as though some diminutive version of "shock and awe" had stumbled from Baghdad, Iraq, to Oakland, California. American police forces had been "militarized," many commentators worried, as though the firepower and callous tactics on display were anomalies, surprises bursting upon us from nowhere. About the Author
How to Fund an American Police State
It's taken decades and millions of lives, but elite opinion is starting to move against mass incarceration. The New Yorker and the New York Review of Books ran detailed exposés on the scale and violence of the penal state. Conservative leaders like Grover Norquist have said that mass incarceration violates the principles of "fiscal responsibility, accountability, and limited government," while GOP darlings like Mitch Daniels have tried to take the lead in state reform. Soon the common wisdom will shift from "we need to get tough on crime" to "we jail too many people for too long for the wrong reasons." The next question is what to do about it, and here the answers are harder. There are those that think that it'll be fairly easy – follow European examples and decriminalize drugs, for instance.
Against Law, For Order
Fears of a corporate police state - David Sirota
The American Prison State - Daniel J. D'Amico
Why are so many Americans in prison? - Inside Story Americas
Matt Stoller: Who Wants Keep the War on Drugs Going AND Put You in Debtor's Prison?
CLASSRACEHYPERINCARCERATION-pub
Our penal system
Go to Trial - Crash the Justice System
policing & prisons - curators...
OPD's "Less than Lethal" Lessons from Military Forces | Hyphenated-Republic
The militarization of police forces...