Charles Tilly
Durable Inequality - Charles Tilly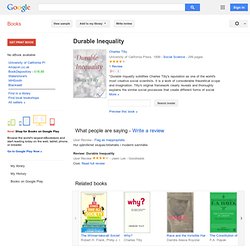 Building Blocks of Social Inequality: A Critique of Durable InequalityDurable Inequality is an important and insightful book. In this work, Charles ... reinforce structural factors that produce durable inequality. ...journals.cambridge.org/production/action/cjoGetFulltext?
Coercion, Capital, and European States, Ad 990-1992 - Charles Tilly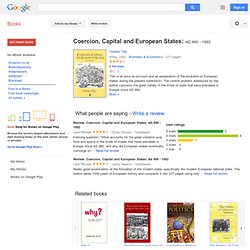 This is at once an account and an explanation of the evolution of European states during the present millennium.
Charles Tilly (May 27, 1929 – April 29, 2008[1]) was an American sociologist, political scientist, and historian who wrote on the relationship between politics and society. He was professor of history, sociology, and social science at the University of Michigan from 1969-1984 and in his last position the Joseph L. Buttenwieser Professor of Social Science at Columbia University.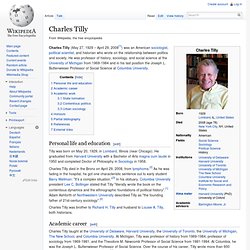 Charles Tilly
Charles Tilly's Democracy identifies the general processes causing democratization and de-democratization at a national level across the world over the last few hundred years. It singles out integration of trust networks into public politics, insulation of public politics from categorical inequality, and suppression of autonomous coercive power centers as crucial processes. Through analytic narratives and comparisons of multiple regimes, mostly since World War II, this book makes the case for recasting current theories of democracy, democratization, and de-democratization.
Democracy - Charles Tilly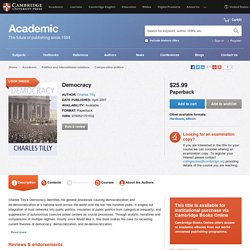 Charles Tilly Methodological Writings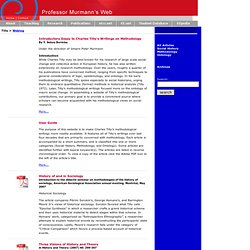 Invariant Modeling, Political Contention, Social Mechanisms The article critiques the method of invariant modeling of macro social processes. He claims that this practice leads researchers to focus on "improving the model" as opposed to understanding that the regularities between macrosociological processes do not operate in the form of recurrent structures and processes. Thus, the construction of invariant models of political revolution is a waste of time and the poor fit accounts for the slow accumulation of knowledge. As an alternative to invariant modeling Tilly recommends the mechanism approach which consists of the following steps: (1) construct valid ontologies, (2) clearly specify the variation within the field, (3) break complex sequences into smaller events, and (4) form contingent predictions (i.e.