Charles Tilly
Durable Inequality - Charles Tilly. "Durable Inquality solidifies Charles Tilly's reputation as one of the world's most creative social scientists.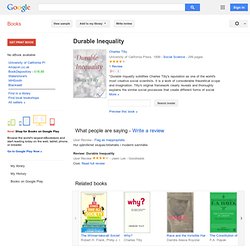 It is a work of considerable theoretical scope and imagination. Tilly's original framework clearly reveals and thoroughly explains the similar social processes that create different forms of social inequality. "--William Julius Wilson, author of The Truly Disadvantaged "A highly sophisticated yet extremely accessible reconstruction of a core sociological problem. . . . Durable Inequality is one of those exceptional books that provides both a compelling rereading of familiar issues and an inspiring vision for future research. " Coercion, Capital, and European States, Ad 990-1992 - Charles Tilly. This is at once an account and an explanation of the evolution of European states during the present millennium.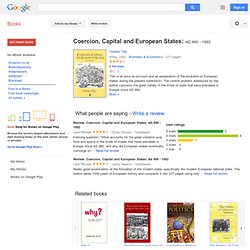 The central problem addressed by the author concerns the great variety in the kinds of state that have prevailed in Europe since AD 990. Professor Tilly shows how interactions between the wielders of power on the one hand and the manipulators of capital on the other resulted in three state formations each of which prevailed over long periods - tribute-taking empires, systems of fragmented sovereignty, and national states. he argues that to conceive European state development as a simple, unilinear process is untenable, and further that relations between the states themselves are a big factor in their formation and evolution. The final part of the book then applies these insights to the history of Third World states since 1945. Charles Tilly. Charles Tilly (May 27, 1929 – April 29, 2008[1]) was an American sociologist, political scientist, and historian who wrote on the relationship between politics and society.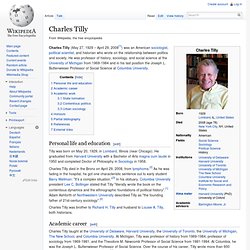 He was professor of history, sociology, and social science at the University of Michigan from 1969-1984 and in his last position the Joseph L. Buttenwieser Professor of Social Science at Columbia University. Democracy - Charles Tilly. Charles Tilly's Democracy identifies the general processes causing democratization and de-democratization at a national level across the world over the last few hundred years.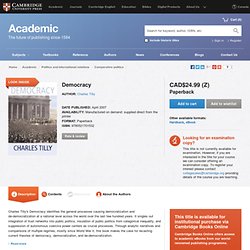 It singles out integration of trust networks into public politics, insulation of public politics from categorical inequality, and suppression of autonomous coercive power centers as crucial processes. Through analytic narratives and comparisons of multiple regimes, mostly since World War II, this book makes the case for recasting current theories of democracy, democratization, and de-democratization. "Charles Tilly in Democracy greatly enriches the literature on transitions in and out of democracy by combining conceptual clarity with an enormously broad knowledge of comparative history, and in the process answers some key questions about the way that institutions interact with social processes.
" Francis Fukuyama, Johns Hopkins University. Charles Tilly Methodological Writings. Invariant Modeling, Political Contention, Social Mechanisms The article critiques the method of invariant modeling of macro social processes.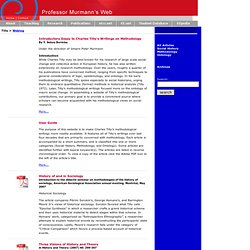 He claims that this practice leads researchers to focus on "improving the model" as opposed to understanding that the regularities between macrosociological processes do not operate in the form of recurrent structures and processes. Thus, the construction of invariant models of political revolution is a waste of time and the poor fit accounts for the slow accumulation of knowledge. As an alternative to invariant modeling Tilly recommends the mechanism approach which consists of the following steps: (1) construct valid ontologies, (2) clearly specify the variation within the field, (3) break complex sequences into smaller events, and (4) form contingent predictions (i.e.
---