History
Internet Sacred Text Archive Home. Ancient History Encyclopedia. Ancient History. Ancient History. "Ancient" Dinosaur Depictions. To the right is a picture of a dinosaur fighting a mammoth from the book Buried Alive by Dr.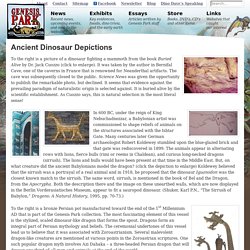 Jack Cuozzo (click to enlarge). It was taken by the author in Bernifal Cave, one of the caverns in France that is renowned for Neanderthal artifacts. The cave was subsequently closed to the public. Medieval Sourcebook. Update Information 2006: In 2006 the Internet Medieval Sourcebooks and associated sourcebooks are undergoing a major overhaul to remove bad links and add more documents. 2.
This project is both very large and fairly old in Internet terms.
---