Film Stuff
The NFL is a notoriously cautious company. For years, it has not allowed official logos to be used by Hollywood; the NFL did not feel that a negative representation of football benefited the brand in any way. It makes sense, and also casts an odd light on Ivan Reitman's Draft Day, the first film ever officially licensed by the NFL. Obviously, the film does not shine a negative light on the league, something other football films definitely have done. There's no mention of drug use or concussions. The lack of controversy actually works to the film's advantage, creating a very broad entry point to a subject that might initially seem limiting.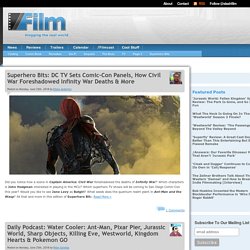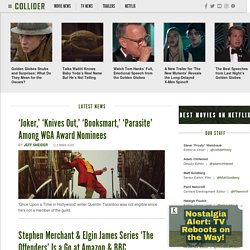 Steven Bernstein's drama Decoding Annie Parker recently made its debut at the Palm Beach International Film Festival, and now the film's first trailer and clip are available online. The film stars Samantha Morton as the title character, a woman stricken with breast cancer who works with oncologist Dr. Mary-Claire King (Helen Hunt) in order to explore the theory of a genetic inheritance of cancer. While the trailer gives a good suggestion of the surprisingly light-hearted tone of this true-to-life cancer-themed picture, the first clip (courtesy of Aaron Paul) is just downright strange out of context from the rest of the film, but enjoyable nonetheless. Decoding Annie Parker also stars Rashida Jones, Alice Eve, Maggie Grace, Corey Stoll, and Ben McKenzie, and opens in limited release on May 2nd.
Ducktales Theme is the musical theme song used in the American animated television series, Ducktales. The Series was produced by Walt Disney. Millions of cartoon lovers have been enthralled by the this animated theatrical film where favorite duck characters like Scrooge McDuck, Donald, The Beagle Boys, Magica De Spell, Flintheart Glomgold, Bubba Duck, Fenton Crackshell, and others enterntained viewers in 100 episodes.
FlickPicks | Home - The Only Fantasy Box Office Game
The Better Way To Rank The Best Movies Of All Time
The Better Way To Rank The Best Movies Of All Time
Lena Dunham's perennially popular and continuously controversial HBO series Girls is back, thanks to last night's two-episode double-whammy, an entire hour of lady-centric television that reintroduces us to the lives, loves, and horrible horrible oh my god terrible mistakes of our eponymous girls-not-yet-women. And they're not the only ones back for more! Yes, our own Rob Hunter and I have returned to discuss, dissect, and dismantle each episode of Girls as the season winds on – so let's see get down to it while we're still young. The third season of the series picks up an indeterminable number of days? weeks?