Wimax links
How WiMAX Works" Think about how you access the Internet today.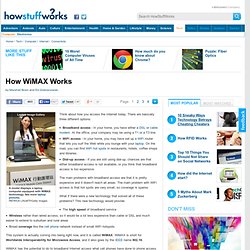 There are basically three different options: Broadband access - In your home, you have either a DSL or cable modem. At the office, your company may be using a T1 or a T3 line.WiFi access - In your home, you may have set up a WiFi router that lets you surf the Web while you lounge with your laptop. On the road, you can find WiFi hot spots in restaurants, hotels, coffee shops and libraries.Dial-up access - If you are still using dial-up, chances are that either broadband access is not available, or you think that broadband access is too expensive. List of Firefox extensions. Official[edit] ChatZilla ChatZilla – a full-fledged Internet Relay Chat client that works inside Firefox.DOM Inspector – for web developers.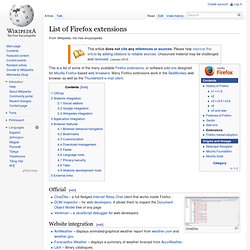 WiMAX Tutorial | Tutorial-Reports.Com. Submitted by gc on Mon, 02/18/2013 - 07:53 WiMax (Worldwide Interoperability for Microwave Access) is a wireless broadband technology, which supports point to multi-point (PMP) broadband wireless access.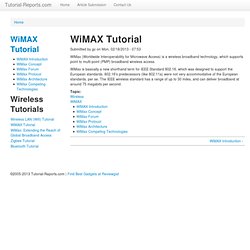 WiMax is basically a new shorthand term for IEEE Standard 802.16, which was designed to support the European standards. 802.16's predecessors (like 802.11a) were not very accommodative of the European standards, per se. The IEEE wireless standard has a range of up to 30 miles, and can deliver broadband at around 75 megabits per second.
---