Outils
Mydevice.io mobile device screen informations. For Excel - SEOgadget.com. The Ultimate List of SEO Bookmarklets - High Position Blog. As SEOs, we spend a fair bit of time typing website URLs into a whole variety of tools on a daily basis.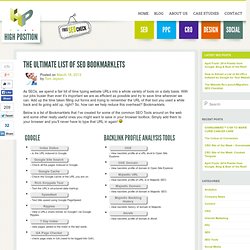 With our jobs busier than ever it's important we are as efficient as possible and try to save time wherever we can. Add up the time taken filling out forms and trying to remember the URL of that tool you used a while back and its going add up, right? Seo referencement positionnement gratuit sur google, comment indexer un site sur les moteurs: Outils d'analyse du référencement d'un site. Référencer un site dans les moteurs de recherche, c'est vital mais à l'heure où la concurrence fait rage, où les durcissements d'algorithme se font sentir de part le monde, où les positionnements subissent des fluctuations importantes, où l'e-réputation représente l'un des piliers du web, il devient plus que jamais indispensable de suivre le référencement de son site, son indexation, son positionnement, son netlinking, son maillage interne, la densité de ses mots-clés, la structure de ses pages grâce à des outils en ligne performants qui vous apporteront des solutions d'optimisation intéressantes pour son positionnement dans les pages de résultats.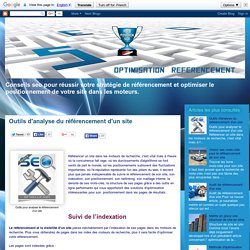 Suivi de l'indexation Le référencement et la visibilité d'un site passe inévitablement par l'indexation de ses pages dans les moteurs de recherche.
Analyse site
Suivi Linking. AuthorRank. Mots clés. Multi-usage. Crawler. Suivi position gratuit. Analyse de page.
Détection de plagiat. La boite à outils du référenceur web. En tant que référenceur web (débutant ou confirmé) nous serions amenés à utiliser une multitude d'outils afin de suivre les résultats de notre travail et le positionnement de nos sites sur les moteurs de recherche.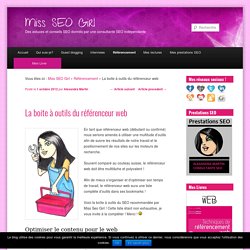 Souvent comparé au couteau suisse, le référenceur web doit être multitâche et polyvalent ! Afin de mieux s'organiser et d'optimiser son temps de travail, le référenceur web aura une liste complète d'outils dans ses bookmarks ! Ranks NL - Webmaster Tools. Netstorming, la boite a outil SEO. NETPEAK | PR, Alexa, mozTrust, mozRank, Authority. The current version of the program: 2.1.2.1 Netpeak Checker is a unique tool designed for the mass analysis and comparison of websites on wide range of different parameters. — Mass analysis of the key SEO parameters of the pages/websites and competition analysis and comparison;— Arrangement and filtration of the collected results according to specified parameters;— Functionality of creating own rating of websites;— Preservation of specified array and data export in Excel format;— Possibility of applying via proxy servers and support of Antigate service;— By the way – all these functions are available for FREE!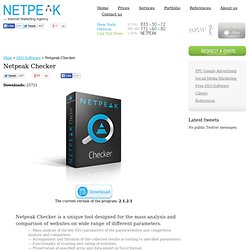 Netpeak Checker is designed for the wide and detailed analysis of websites according to different specified parameters. There is a functionality of preserving the history of all the analysis cases, as well as, possibility of their exporting into Excel. SpyOnWeb.com | Reverse IP et Reverse Google Analytics Code. 10 excellent SEO plug-ins for every blog. SEO can be a very daunting task.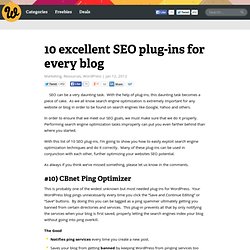 With the help of plug-ins, this daunting task becomes a piece of cake. As we all know search engine optimization is extremely important for any website or blog in order to be found on search engines like Google, Yahoo and others. In order to ensure that we meet our SEO goals, we must make sure that we do it properly.
Linking. Mon avis sur Hrefs, outil d'analyse des backlinks. Tout référenceur averti sait que les backlinks sont très importants pour positionner un site dans les résultats de recherche.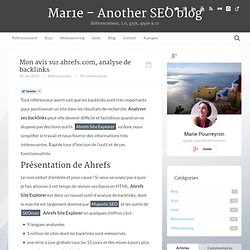 Analyser ses backlinks peut vite devenir difficile et fastidieux quand on ne dispose pas des bons outils. Ahrefs Site Explorer va donc nous simplifier le travail et nous fournir des informations très intéressantes.
---