D&D
First, let me start out by saying that the last Pathfinding article was a curious hit among new readers. Specifically, people have been finding us rather by accident: Humorously enough, part of our name ("everyone dies") is apparently a big keyword that people search for when trying to learn more about Mass Effect 3.
Pathfinding: Samus Aran, Golarion Bounty Hunter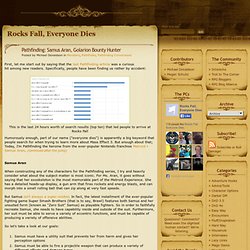 Here is the example build I promised over on this thread: Incentive to Play a Kobold The Manipulate Form ability is explained here, operating under the Fair Use clause. Manipulate Form At will, a sarrukh can modify the form of any Scaled One native to Toril, except for aquatic and undead creatures.
The most powerful character. EVER. > d20 Character Optimization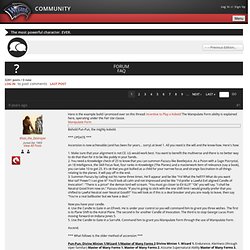 Pathfinder®: Pathfinder Adventure Path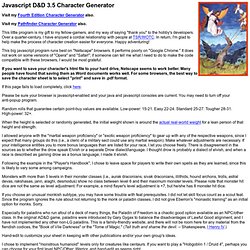 Javascript D&D 3.5 Character Generator Visit my Fourth Edition Character Generator also. Visit my Pathfinder Character Generator also. This little program is my gift to my fellow-gamers, and my way of saying "thank you" to the hobby's developers. Over a quarter-century, I have enjoyed a cordial relationship with people at TSR/WOTC. In return, I'm glad to help make the process of character creation easier for everyone.
Javascript Pathfinder Character Generator (Core Rules) This big javascript program runs best on "Netscape" browsers. It performs poorly on "Google Chrome."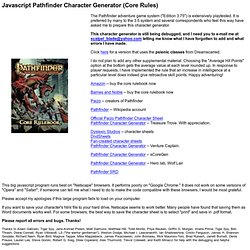 PFRPG Character Generator | Venture Captain