Tv channels
This week's UK television & radio
News
TV Challenge delivers out of the box concepts The 'Out of the Box' TV Challenge produced a number of novel prototypes in the course of a weekend workshop to create concepts to change the way we view television. Teams from Manchester Metropolitan University and BT were among the winners of the competition, recognised by industry judges including representatives from the BBC, Channel 4, Sky and Google. Cable operators extend beyond their networks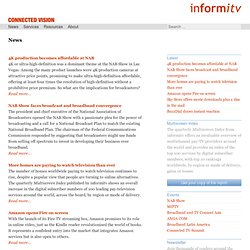 www.sneakytv.com
FOX Broadcasting Company - The Simpsons Episodes - The Simpsons Characters - The Simpsons TV Show
mb21 - The Transmission Gallery
free sky plus box??
What's On TV
barb.co
Sky UK on Astra 2A/2B/2D & Eurobird 1 at 28.2°E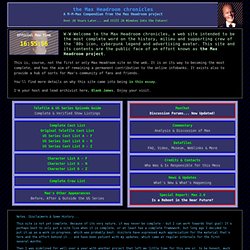 the Max Headroom chronicles: H-H-H-Home Page
Official Max Time W-W-Welcome to the Max Headroom chronicles , a web site intended to be the most complete word on the history, milieu and supporting crew of the '80s icon, cyberpunk legend and advertising avatar. This site and its contents are the public face of an effort known as the Max Headroom project . This is, course, not the first or only Max Headroom site on the web.
TV Cream « Retro British pop culture
Radio Times - TV guide, TV and radio listings, film reviews guide