Ice hockey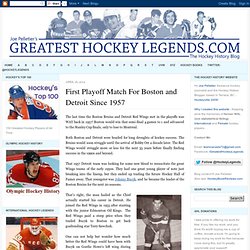 The last time the Boston Bruins and Detroit Red Wings met in the playoffs was WAY back in 1957! Boston would win that semi-final 4 games to 1 and advanced to the Stanley Cup finals, only to lose to Montreal. Both Boston and Detroit were headed for long droughts of hockey success. The Bruins would soon struggle until the arrival of Bobby Orr a decade later. The Red Wings would struggle more or less for the next 35 years before finally finding success in the 1990s and beyond. That 1957 Detroit team was looking for some new blood to resuscitate the great Wings teams of the early 1950s.
Greatest Hockey Legends.com
How to Play Hockey: Youth Hockey Drills and Coaching Tips
Ok, first its my birthday today and wow did I get a nice gift. Glen Sather absolutely ripped the Montreal Canadians off today. Not only do my beloved Rangers get rid of $7.35 million / year for the next 5 years for a 16 goal scorer. They get Chris Higgins, age 26 and 1.85 in cap, Meh ok, he plays hard but is injury prone. I would have been happy with a couple used pucks to rid myself of Gomer's cap hit.
GetItNext Hockey - The Red Line - All Hockey All The Time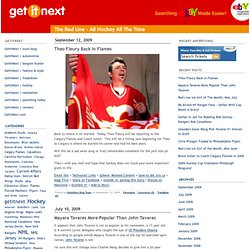 Ice hockey with the Chelmsford Chieftains Ice Hockey Team
The Hockey Uniform Database
Ice Hockey Kit - London, UK suppliers of ice hockey, roller hockey, inline hockey and recreational skating equipment & skates
You do not have permission to view this directory or page using the credentials that you supplied. Please try the following: Contact the Web site administrator if you believe you should be able to view this directory or page.
Science of Hockey: Facts, Pictures & Slow-Motion Video