Genealogy
Country Index A-Z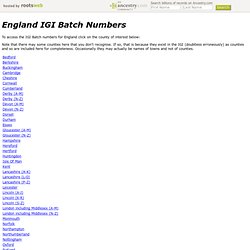 Counties in England
To access the IGI Batch numbers for England click on the county of interest below: Note that there may some counties here that you don't recognise. If so, that is because they exist in the IGI (doubtless erroneously) as counties and so are included here for completeness. Occasionally they may actually be names of towns and not of counties. You are visitor number - since 20:00 EST (North America) Friday 15th February, 2002 - Thank you
Coats of Arms, Coat of Arms, Family Crest
Baldock Family Genealogy Forum
Baldock Family Crest and History
Genealogy Software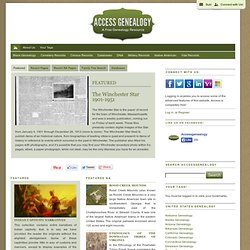 Featured NA Rood Creek Mounds Rood Creek Mounds (also known as Roods Creek Mounds) is a very large Native American town site in southwestern Georgia that is immediately east of the Chattahoochee River in Stewart County. It was one of the largest Native American towns in the eastern United States. The original palisade enclosed about 120 acres and eight mounds. Ethnology of the Powhatan Tribes of Virginia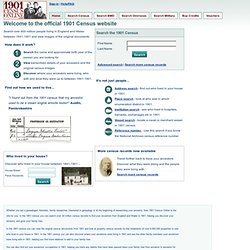 1901 Census of England and Wales Online
Search over 400 million people living in England and Wales between 1841-1901 and view images of the original documents. How does it work? Search the name and approximate birth year of the person you are looking for View transcribed details of your ancestors and the original census images Discover where your ancestors were living, who with and what they were up to between 1841-1901.
Genealogy Research online specializing in British & Irish genealogy search
www.genealogy-links.org
Welcome to the official 1911 Census website
Welcome to GenCircles!
Victorian Occupations - Job Titles in the 19th Century - Beginning with the Letter M
Faversham.-- mun. bor., market town, and par., river-port, and corporate member of the Cinque Port of Dover, E. Kent, on Faversham Creek (a branch of the Swale), 8 miles NW. of Canterbury and 52 miles SE. of London--par., 2292 ac., pop. 9484; town, 538 ac., pop. 8743; bor. and corporate member, 536 ac., pop. 8616; P.O., T.O., 2 Banks, 1 newspaper.Market-days, Wednesday, Friday, and Saturday. Faversham is a very ancient place; its name occurs in 812. In 1147 King Stephen and Queen Maud founded at Faversham a Cluniac abbey, within the walls of which they were buried. ...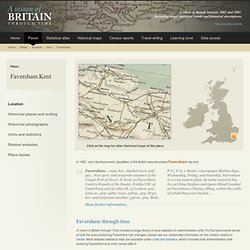 History of Faversham, in Swale and Kent | Map and description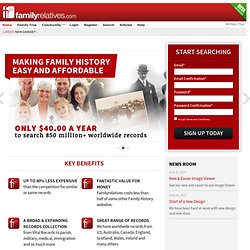 Familyrelatives.com trace your Family Tree and Family History using Scottish records, Medical Records, Military Records, School Registers, US Civil War Roll of Honor
By using Familyrelatives.com ® you agree to be legally bound by these terms, which take effect immediately on your first use of Familyrelatives.com. If you do not agree to be legally bound by all the terms and conditions herein please discontinue access and/or use of Familyrelatives.com. Familyrelatives.com ® may change these terms from time to time by posting changes online. Please review these terms regularly to ensure that you are aware of any changes made by the Familyrelatives.com. Your continued use of Familyrelatives.com after changes are posted means you agree to be legally bound by these terms as updated and/or amended.
Electoral Roll - UK Electoral Roll Search - UK Electoral Register Search - Voters Roll Search - Electoral Roll UK - Electoral Role - UK Address Directory - UK Electoral Register - Voters Register - Search Voters Register - Voters Roll - Find a Person - El
About Our Searches We provide instant searches of the Electoral Roll, Electoral Register, Deaths, Marriages and UK Property Ownership to the general public and companies 24 hours a day, 7 days a week. Our Enhanced UK Electoral Roll will provide you with the address of any UK voter and the names of anyone else at the address. If you want to find an old friend, relative or missing person in the UK, The Electoral Roll and The Electoral Register are the very best places to start looking. You can search by forename, surname, full name or by address and postcode and receive INSTANT results directly on the page or via email.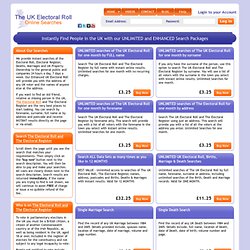 directions
The Weald - Maps
Additional Manuscripts, Catalogue R Contents: Since it opened, East Sussex Record Office has maintained a collection of 'Additional Manuscripts' for accessions which are not assigned, or are not accrued to existing collections which have, a distinctive alphabetic reference based on the collection's title.
Access to Archives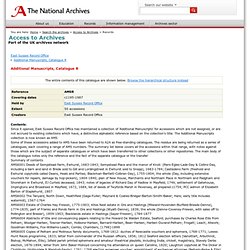 Redirect
Research your family tree and family history today | Findmypast.co.uk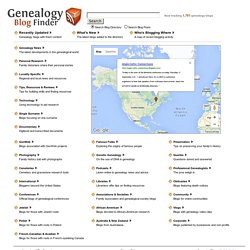 GenWeb » Blogs associated with GenWeb projects Photography » Family history told with photographs Cemeteries »
We want to use cookies to collect data on how people use our site. Click here to accept, and dismiss this notice. For more information, and to change your preferences later, see our cookie policy. If you prefer not to accept them you may disable them (this sets a cookie). Personal Pages Index A B C D E F G H I J K L M N O P Q R S T U V W X Y Z a
[oucs] Personal Pages Index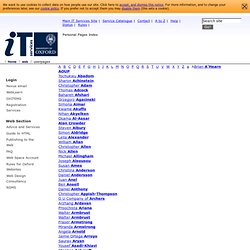 Birth, Death, Marriage Certificates Online
Registration Districts in England and Wales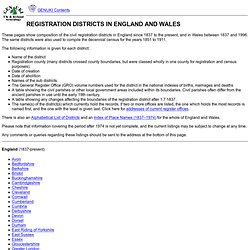 These pages show composition of the civil registration districts in England since 1837 to the present, and in Wales between 1837 and 1996. The same districts were also used to compile the decennial census for the years 1851 to 1911. The following information is given for each district: Name of the district Registration county (many districts crossed county boundaries, but were classed wholly in one county for registration and census purposes). Date of creation Date of abolition Names of the sub districts.
S&N Genealogy Supplies - Software, UK Census and Data CDs
Price & Associates: Expert Links: English Family History and Genealogy
Call Today for FREE Consultation800.288.0920 Discover your Family History: Located one block from the Family History Library in Salt Lake City Utah, Price & Associates is able to trace most family histories back four or five generations without difficulty. With additional assistance from our professional genealogists across the globe, we have successfully traced genealogies back as many as thirty generations – to William the Conqueror, 1066 A.D. and Beyond Price & Associates professional genealogy researchers have been helping people discover their heritage for more than thirty years. As one of the United States' largest genealogical firms, we have assisted thousands of families to organize, chart, and verify their ancestral lines.Price & Associates uses the best software and genealogy resources available, and even provides access to free databases and researching aids to everyone interested in their family history.
Map of the rape of Chichester | British History Online
Londinum Feracissimi Angliae Regni Metropolis. 1560 Georg Braun & Franz Hogenberg historic cities London. 1560 anon. 1739 reproduction of original, from Maitland's History of London Microcolour Fleet Street, The Temple etc. 1563 Ralph Aggas, from London,Old & New by Edward Walford, 1881 Re-publishing Whitehall and Westminster. 1563 Ralph Aggas from London,Old & New, Edward Walford, 1881 (264kb) Re-publishing
London Old Maps
Thank you for bringing my family together. J. Haas Fort Collins, CO, USA We have been enjoying MyHeritage site and have come in contact with relatives I didn't know I had.
Select site
Login Home Learn How It Works I've Got Photos I've Got Genealogy
Family Photoloom Home Page
ukbdm.org.uk
The Baldock Family History
FamilyHistoryOnline - searchable databases for family history & genealogy in England, Wales & Australia
Family Tree Search - Access Genealogy
Kent Genealogy England
Kent Registration Services - Birth, Marriage and Death Certificates - home
Genealogy Guide
GENUKI: Sussex Genealogy
FreeBMD - Search