Gaming
Games
Issue 1103, 2011. A Survey of First-person Shooters and their Avatars by Michael Hitchens A survey of over 550 first-person shooters, The titles are compared by year of release, platform and game setting.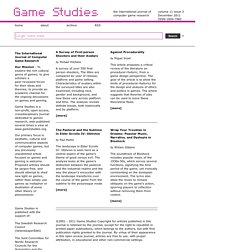 Characteristics of avatars within the surveyed titles are also examined, including race, gender and background, and how these vary across platform and time. The analysis reveals definite trends, both historically and by platform. Current Titles | ETC Press. Popular Culture Gaming. Blog. Home - GameInformer.com. Has created the world's first integrated HTML5 game development and deployment environment. The 10 Best Strategy Games on the iPhone, Feature Story from GamePro.
Spaceport. Flurry: iPhone Games Are A $500 Million Industry In The U.S. And Taking Share. If you look at the top paid and top grossing apps in the iTunes App Store, the Games category dominates.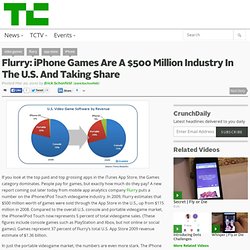 People pay for games, but exactly how much do they pay? A new report coming out later today from mobile app analytics company Flurry puts a number on the iPhone/iPod Touch videogame industry. In 2009, Flurry estimates that $500 million worth of games were sold through the App Store in the U.S., up from $115 million in 2008. Compared to the overall U.S. console and portable videogame market, the iPhone/iPod Touch now represents 5 percent of total videogame sales. For The First Time In Five Years, Microsoft Buys A Game Company. Twisted Pixel Here's evidence that the gaming space is hot: Microsoft just bought a small game developer after a five year hiatus.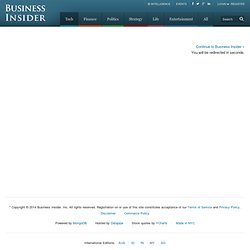 Late last night, Microsoft announced it bought Twisted Pixel, a studio based in Austin, TX. Twisted Pixel created "Splosion Man," a casual game for Xbox Live, and "The Gunstringer," one of the first games that uses Microsoft's Kinect technology. DevHour. UNLEASHED: Zynga Wants To Be Taken More Seriously. Matt Rosoff Business Insider Zynga founder Mark Pincus at today's Zynga Unleashed event.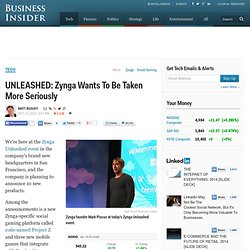 We're here at the Zynga Unleashed event in the company's brand new headquarters in San Francisco, and the company is planning to announce 10 new products. Among the announcements is a new Zynga-specific social gaming platform called code-named Project Z and three new mobile games that integrate with Facebook's new mobile platform, which was announced yesterday. Project Z won't launch until next month, but users can sign up for a Zynga-specific handle that ties into their Facebook account. So for instance, I could sign up for a name like "MattyDread" and it would be automatically tied to my Facebook account, with all my friends available for play.
---