OU OpenLearning
Learning Journals. Introductory modules. Intermediate modules. Cohere QuickStart Guide. Re-using, Remixing and Creating Content. Mind Map. Looking for Open2.net? Copyrighted image Credit: The Open University Open2.net fades away...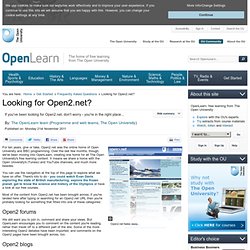 For ten years, give or take, Open2.net was the online home of Open University and BBC programming. Over the last few months, though, we've been moving into OpenLearn, creating one home for all The Open University's free learning content. It means we share a home with the Open University's iTunesU and YouTube channels, and much more besides. OUlearn's Channel. Free learning from The Open University German surrender brought the Second World War in Europe to and end.
But all feared that war with Japan would drag on and on.
Compedium
All Units. Learning. Open Learning Network |
---