Les Frasques Sarkoziennes vues d'ailleurs
Quand "Newsweek" fait de Sarkozy le symbole de l'extrême droite européenne
La presse anglo-saxonne épingle une nouvelle fois Nicolas Sarkozy.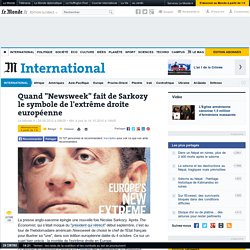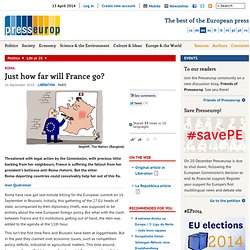 Threatened with legal action by the Commission, with precious little backing from her neighbours, France is suffering the fallout from her president's bellicose anti-Roma rhetoric.
Just how far will France go? | Presseurop – English
Unity requires basic rights - The Boston Globe
Nicolas Sarkozy in EU rant at Roma insult - mirror.co.uk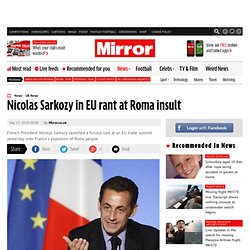 French President Nicolas Sarkozy launched a furious rant at an EU trade summit yesterday over France's expulsion of Roma people.
Germany denies Merkel said would clear Roma camps | Reuters
By Paul Carrel BERLIN Fri Sep 17, 2010 2:20pm BST BERLIN (Reuters) - A European row over France's repatriation of Roma escalated on Friday, pitting President Nicolas Sarkozy against Germany's Angela Merkel, who was forced to deny his assertion Berlin also planned to clear camps.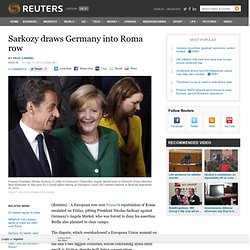 The Roma, the EU's biggest ethnic minority, scattered across a dozen countries, are Europe's pariah people. Thanks to Nicolas Sarkozy, they are a lot less forgotten and ignored than they were a fortnight ago.
The Roma: Europe's pariah people | World news | The Guardian
Roma, on Move, Test Europe's 'Open Borders' - NYTimes.com
WHEN Nicolas Sarkozy first burst into the French political consciousness he was unlike any other recent leader the country had known.
Nicolas Sarkozy: The incredible shrinking président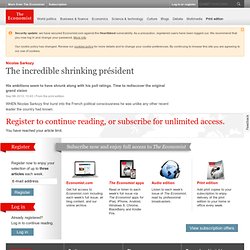 Le « 11h02 » : le clash entre la France et la Commission
La tensa jornada vivida ayer en la cumbre de la UE a cuenta de la política francesa de expulsión de gitanos concluyó con un embrollo diplomático entre París y Berlín. Tras pelearse a cara de perro con el presidente de la Comisión, José Manuel Durão Barroso, Sarkozy se plantó ante la prensa para subrayar que, pese a la discusión con Barroso, ninguno de los jefes de Estado europeos habían manifestado una crítica directa a su política.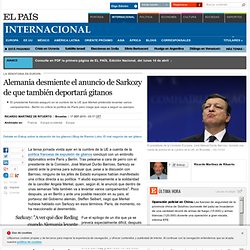 Alemania desmiente el anuncio de Sarkozy de que también deportará gitanos · ELPAÍS.com