Les Frasques Sarkoziennes vues d'ailleurs
Quand "Newsweek" fait de Sarkozy le symbole de l'extrême droite européenne. La presse anglo-saxonne épingle une nouvelle fois Nicolas Sarkozy.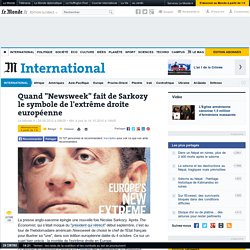 Après The Economist, qui s'était moqué du "président qui rétrécit" début septembre, c'est au tour de l'hebdomadaire américain Newsweek de choisir le chef de l'Etat français pour illustrer sa "une", dans son édition européenne datée du 4 octobre. Ce sur un sujet bien précis : la montée de l'extrême droite en Europe. Le dossier du magazine s'appuie sur l'arrivée des nationalistes au Parlement suédois pour tirer le portrait d'un vieux continent hanté par le repli identitaire, minant le projet européen alors que la crise économique et le chômage attisent les ressentiments. "La région la plus démocratique du monde est désormais le terreau des politiques extrêmes", analyse le journaliste Denis MacShane. Just how far will France go? | Presseurop – English. Threatened with legal action by the Commission, with precious little backing from her neighbours, France is suffering the fallout from her president's bellicose anti-Roma rhetoric.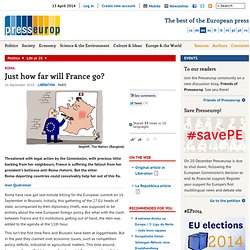 But the other Roma-deporting countries could conceivably help her out of this fix. Roma have now got last-minute billing for the European summit on 16 September in Brussels. Initially, this gathering of the 27 EU heads of state, accompanied by their diplomacy chiefs, was supposed to be entirely about the new European foreign policy. But what with the clash between France and EU institutions getting out of hand, the item was added to the agenda at the 11th hour.
Unity requires basic rights - The Boston Globe. Nicolas Sarkozy in EU rant at Roma insult - mirror.co.uk. French President Nicolas Sarkozy launched a furious rant at an EU trade summit yesterday over France's expulsion of Roma people.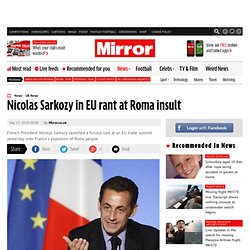 Mr Sarkozy said he could not allow France to be insulted after EU Justice Commissioner Viviane Reding compared France's actions with Nazi persecution. He confronted Commission President Manuel Barrosso at lunch, saying: "It is outrageous that I have to defend the honour of France. " And he insisted there were no illegal expulsions based on ethnicity. Fellow commissioners backed Mrs Reding calling France a "disgrace" but cooled on comparisons with the Second World War. Germany denies Merkel said would clear Roma camps | Reuters. By Paul Carrel BERLIN Fri Sep 17, 2010 2:20pm BST BERLIN (Reuters) - A European row over France's repatriation of Roma escalated on Friday, pitting President Nicolas Sarkozy against Germany's Angela Merkel, who was forced to deny his assertion Berlin also planned to clear camps.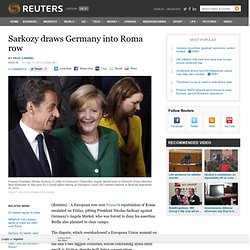 The Roma: Europe's pariah people | World news | The Guardian. Euro MPs demonstrate on behalf of Roma people in the parliament in Strasbourg.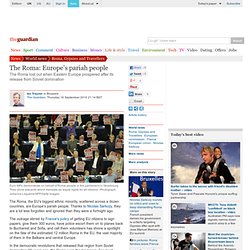 They show placards which translate as 'equal rights for all citizens'. Photograph: Johanna Leguerre/AFP/Getty Images The Roma, the EU's biggest ethnic minority, scattered across a dozen countries, are Europe's pariah people. Thanks to Nicolas Sarkozy, they are a lot less forgotten and ignored than they were a fortnight ago. The outrage stirred by France's policy of getting EU citizens to sign papers, give them 300 euros, have police escort them on to planes back to Bucharest and Sofia, and call them volunteers has shone a spotlight on the fate of the estimated 12 million Roma in the EU, the vast majority of them in the Balkans and central Europe. Roma, on Move, Test Europe's 'Open Borders' - NYTimes.com. Nicolas Sarkozy: The incredible shrinking président.
Le « 11h02 » : le clash entre la France et la Commission. Alemania desmiente el anuncio de Sarkozy de que también deportará gitanos · ELPAÍS.com. La tensa jornada vivida ayer en la cumbre de la UE a cuenta de la política francesa de expulsión de gitanos concluyó con un embrollo diplomático entre París y Berlín.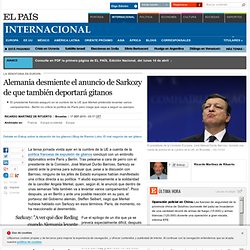 Tras pelearse a cara de perro con el presidente de la Comisión, José Manuel Durão Barroso, Sarkozy se plantó ante la prensa para subrayar que, pese a la discusión con Barroso, ninguno de los jefes de Estado europeos habían manifestado una crítica directa a su política. Y aludió expresamente a la solidaridad de la canciller Angela Merkel, quien, según él, le anunció que dentro de unas semanas "ella también va a levantar varios campamentos". Poco después, ya en Berlín y ante una posible reacción en su país, el portavoz del Gobierno alemán, Steffen Seibert, negó que Merkel hubiese hablado con Sarkozy en esos términos.
París, de momento, no ha reaccionado al desmentido. Sarkozy: "A ver qué dice Reding cuando Alemania levante campamentos"
---