Writing/Reading
Good for ideas
Tumblr. Love Is..... By Brandi Lewis - Hello Poetry. XVII (I do not love you...). By Pablo Neruda - Hello Poetry. Worthless. By Carissa M. Wyles - Hello Poetry. None of us know what we're doing. 4:32pm | Aug 22nd, 2009 "Because, that's the thing about love, really.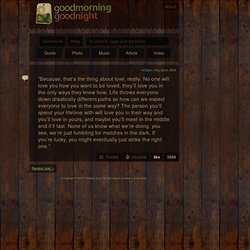 No one will love you how you want to be loved, they'll love you in the only ways they know how. Life throws everyone down drastically different paths so how can we expect everyone to love in the same way? The person you'll spend your lifetime with will love you in their way and you'll love in yours, and maybe you'll meet in the middle and it'll last. Confusing Words. ManyBooks.net - Free eBooks for your iPad, smartphone, or eBook reader. Writerisms and other Sins: A Writer's Shortcut to Stronger Writing. Free online speed reading software | Spreeder.com. Spreeder is a free service provided by 7-Speed-ReadingTM.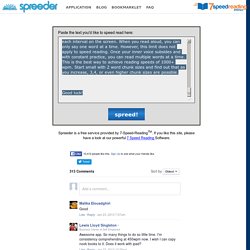 If you like this site, please have a look at our powerful 7 Speed Reading Software. Spreeder.com is a free online speed reading software designed to improve your reading speed and comprehension. Spreeding 1 word @ 300 wpm Paste the text you'd like to speed read here: The 16 Best Dystopian Books Of All Time. Dystopian novels—stories of the horrific future—are so common as to be almost forgettable.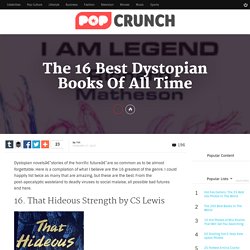 Here is a compilation of what I believe are the 16 greatest of the genre. I could happily list twice as many that are amazing, but these are the best. From the post-apocalyptic wasteland to deadly viruses to social malaise, all possible bad futures end here. Top Ten - Top 10 Banned Books of the 20th Century - Top 10 - Top 10 List - Grapes of Wrath - Lady Chatterly's Lover Quote - Slaughterhouse Five Quote - To Kill a Mockingbird Quote - Fahrenheit 451 Quote - Catcher in the Rye Quote - Tropic of Cancer Quote. Top 10 Banned Books of the 20th Century #10 - The Grapes of Wrath "Before I knowed it, I was sayin' out loud, 'The hell with it!
There ain't no sin and there ain't no virtue. There's just stuff people do. It's all part of the same thing.' " Bookshelf Porn: Archive. "If you can pronounce correctly every word in this poem, you will be speaking ..." - Mmmhh... Suppe :D. Writing.
---