Design
There's Finally a Wookiee iPhone Case To Match Your Awesome Chewbacca Hoodie
This Modern Island Home Is Entirely Powered by the Sun
An NYC Staircase a Giant Could Climb—And You Can Live In
The Cash Register of the Future Wraps the iPad in Beautiful Bamboo
When Living Room Furniture is Also Workout Equipment, It's Harder to Avoid Exercise
These Awesome Offices Have a Giant Slide Inside
The Best Way to Recycle a 747 Is to Live In It
Only the Lonely Dine at This Transforming Dinner Table Bed
Dress to Kill (Or Just Prick) With a Set of Pocket Knife Cufflinks
Whimsical Floating Desk Supported By Balloons and Giant Jenga Pieces
The Luckiest Kid on Earth (or Hoth) Just Got an AT-AT Bunk Bed
An Upside Down Helicopter Makes For One Bad-Ass Ceiling Fan
The 10 Most Awesome Pools In the World
The Private Rocker Is a Perfect Place to Escape the Office
Stay Off Your Boss's Radar With This Stealth-Inspired Desk
The Gazebo Gets a 21st Century Update
Concrete Business Cards Are Impractical and Exquisite Works of Art
You Probably Don't Want This Awesome Floating Maglev Bed If You're Covered in Piercings
You Don't Have To Be Drunk To Want This R2-D2 Hoodie
Baseball Mitt Wallets Resurrect Your Favorite Old Glove
This Couch Is the Only Place It's Ever Ok To Fall Asleep At the Wheel
Giant Loop Shower Is a Bidet For Your Entire Body
The Nicest Micro-Cabin $10,000 Can Buy
Indoor Basketball Court, Summerlin, Nevada - John Giuffo
Soccer Goal Chairs Are the Only Way Children Will Voluntarily Sit Down
Panic Button Light Switch Adds Drama To Conserving Electricity
Nerdgasm Alert: Full Size Lego Avengers Props!
The House That Can Live on the Water or in the Trees
Today's featured workspace comes from reader and Flickr user fuád, who made an attractive home office with not much more than a simple desk and gray walls. What makes the room interesting is the contrast of the desk to the wall, plus the addition of several colorful photos of all sizes. The nice thing about starting with a dark gray is that it's easy to add just a little color and make the room look awesome.
Gray Walls and Various Imagery: A Simple Corner Workspace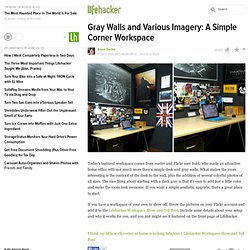 The Best Towel Rack Is the One You Barely Notice At All
Amazing Candy Store Looks Like It Was Drawn By Kids
This Ridiculous Hot Tub Is Larger Than Some New York Apartments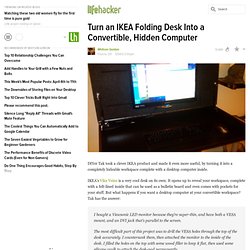 Turn an IKEA Folding Desk Into a Convertible, Hidden Computer
DIYer Tak took a clever IKEA product and made it even more useful, by turning it into a completely hideable workspace complete with a desktop computer inside. IKEA's Vika Veine is a very cool desk on its own: It opens up to reveal your workspace, complete with a felt-lined inside that can be used as a bulletin board and even comes with pockets for your stuff.
Sadly, This Photoshop Mirror Doesn't Include a Magic Wand Tool For Baggy Eyes
Future Dubai Hotel Will Sit 21 Stories Underwater
Unedited: This Pool/Moat Sucks
Tiny Table Turns Your Fire Escape Into a Luxurious Patio
Lounge Chair Ingeniously Hides a Workspace in Its Arms
Temperature Regulating Chairs Bring Peace To Office Thermostat Wars
You'd Never Want To Graduate From this Amazing, Automated College Dorm Room
Pop-up Bedside Table Is Another Reason Not To Get Your Butt Out Of Bed
Stunning Ice Sculpture Table Will Never Melt Away
These Sleek Salt and Pepper Shakers Have Only One Opening
This Desk-Shelf Hybrid Harmoniously Combines Form and Function
This Toilet Is the Perfect Place To Sit When Perched On a Glass Floor Over a 15 Story Shaft
Transform Your Office Cubicle into a Roman Palace With a Chariot Chair
If a Tree Falls In Your Living Room and There's No One To Sit On It, Does It Really Become a Bench?
For Your Next Vacation, Book a Night In One of These Lovely Shipping Containers
This Helmet Crafted from Sustainable Wood and Cork Is as Safe as Your Plastic and Foam One
This Amazing Treehouse Is Hidden on Whistler Mountain
How Sweet Is This Subterranean Shanghai Hotel Going to Be?
This Transforming Table Magically Transforms From Rectangle to Circle
I've noticed the avatars are all different depending on which screen you're on.
Inside The $400,000 Van Built Like A Private Jet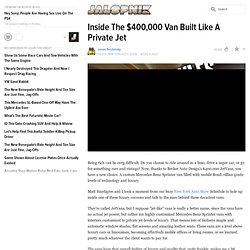 Miniature Furniture Waffle Mold: Ken and Barbie Better Hit the Malibu Dream Gym
Million Dollar Subterranean Garage Is Only Accessible Through an Aircraft Carrier Elevator
Oops!
Doomsday shelters line Kansas missile silo
The Gorgeous Spiral Staircase You Can Put Literally Anywhere
Ikea's "Experimental" LED Lamps Are Perfect For "Experimental" Lying On the Floor Staring at the Ceiling
New PU Leather Basketball Chair Sofa and Ottoman Set: Office Products
Retractable Beds Let You Hide an Entire Living Room Under Your Mattress
The Craziest Jeans Company Is Making Silk Denim, Hemp Denim, Gauze Jeans and Reverse Red Dye Pants
Stackable Pint Glasses Will Make You an Oktoberfest Superhero
Tetris Lamp Lights Up When Stacked Instead of Disappearing
Instantly Class Up Any Room With Beer Can Lighting
I Want This Imperial AT-AT Volkswagen Van
65-Foot-High Lego Church Is Really a Party Cathedral
A Magnetic Metal Ball Is the Secret To This Designer Lamp's Flexibility
You'll Never Outgrow this Transforming Crib/Couch/Desk
Designer Wireframe Chair Is Just Barely There
Millennium Falcon Guitar Guarantees You a Spot In the Cantina Band
Extending Camper Vans Give the Modern Hippy Plenty Of Leg Room
The Highest Skyscraper In the World Will Be This 1,050-Kilometer-High Turd
Horizontal Showers: Good Idea or Great Idea?
Award-Winning Smoke Alarm Sounds Like a Bird and Could Save Your Life
The Olympics Will Have Bombproof Trash Cans with LCD Screens
Haptic Weather Forecaster Lets You Feel Tomorrow's Temperature
Shoot Your Lights Off with the BANG! Lamp
REK: A Shape-Shifting Coffee Table That Expands When Friends Come Over
Hankie Notepads Keep Reporters Looking Dapper
This Awesome Ship Is the Only Cruise I Would Take
The Pirate Bay's Founders Are Going to a Prison That's Better than Your Life
Turn Your Old Airbus A300 Into a Lovely Hanging Lamp
USS Enterprise Coffee Table Is Furniture's Final Frontier
This R2-D2 Rug Would Look Great In the Emperor's Throne Room
Keep This Inflatable RC R2-D2 Away From Jawas and Thumbtacks
Starbucks Builds a Drive-Through Out of Shipping Containers
Daily Desired: A Bullet Cocktail Shaker to Put Cold Shots in Your Head
No, You Do Not Need a Set of Wi-Fi Cufflinks
This Fabulous Expandable Caravan Is Cooler Than Most Apartments
Artist Builds a Six Million-Matchstick Model Monastery
Question Block Lamp Won't Grant You a Single Extra Life
Crazy Four Player Ping Pong Adds Elements Of Pool
The Greatest Toilet Seat I've Ever Seen
A Hidden Pool Table for the Modern Bachelor
How a Bounty Hunter Battles the Cold
Stay As Warm As a Wookiee In This Hoodie
Soft Serve Cone Lamps: What? No Sprinkles?
This Is Where the Avengers Do All Their Paperwork
McDonald's Outside of America Looks Way More Awesome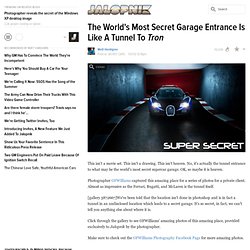 Mmmm, I love HDR photography of automobiles. HDR, or High Dynamic Range, allows you to capture a larger range of brightness than is visible to the human eye (or film).
The World's Most Secret Garage Entrance Is Like A Tunnel To Tron