Foresight
European Union Documents - European Commission - Green papers. Αυτός ο κατάλογος περιλαμβάνει τα Πράσινα Βιβλία που δημοσιεύθηκαν από το 1985 και σας δίνει πρόσβαση στο πλήρες κείμενο ή συνοπτικό κείμενο .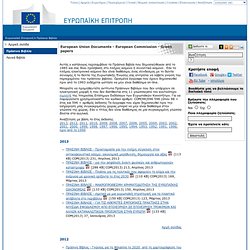 Εάν το πλήρες ηλεκτρονικό κείμενο δεν είναι διαθέσιμο, ένας σύνδεσμος με το δελτίο σύνοψης ή το δελτίο της Ευρωπαϊκής Ένωσης σας επιτρέπει να λάβετε γνώση του περιεχομένου του πράσινου βιβλίου. Ορισμένα έγγραφα που έχουν δημοσιευθεί πριν από το 1993 ενδέχεται ωστόσο να μην είναι διαθέσιμα on-line. Μπορείτε να προμηθευτείτε αντίτυπα Πράσινων Βιβλίων που δεν υπάρχουν σε ηλεκτρονική μορφή ή που δεν διατίθενται στις 11 γλώσσεςαπό τον κοντινότερο πωλητή της Υπηρεσίας Επίσημων Εκδόσεων των Ευρωπαϊκών Κοινοτήτων.
Για να παραγγείλετε χρησιμοποιείστε τον κωδικό αριθμό: COM(98)596 596 (όπου 98 = έτος και 596 = αριθμός έκδοσης Τα έγγραφα που είχαν δημοσιευθεί πριν την εισχώρηση μίας συγκεκριμένης χώρας μπορεί να μην είναι διαθέσιμα στην γλώσσα της χώρας. Intelligent Cities - Smart Cities - Innovation Εcosystems - URENIO Watch. ICT plus. Centre for eGovernance Development (CeGD) Futures Matrix. Home - EFMN - European Foresight Monitoring Network. With Oktober 2009, the European Foresight Monitoring Network is relaunched and changed to The European Commission under its Framework Programme 7 is providing the means to continue the important networking activities of foresight initiatives.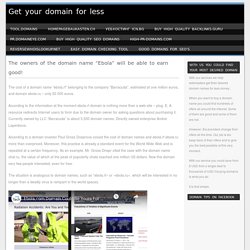 Setting out on the previous work of the European Foresight Monitoring Network and ForLearn the new European Foresight Platform resumes its work. We are grateful to the community of correspondents and their valuable contributions that have filled EFMN activities with live so far and we hope to continue the fruitful work. If you are a foresight practitioner or are interested in foresight you can become a member of our community. Write to Susanne.Giesecke@ait.ac.at This e-mail address is being protected from spam bots, you need JavaScript enabled to view it to learn more about the following three years, the activities planned and how you can contribute and be an active part of the network. FOR-LEARN. A is a "story" illustrating visions of possible future or aspects of possible future.
It is perhaps the most emblematic Foresight or future studies method. Scenarios are not predictions about the future but rather similar to simulations of some possible futures. World Future Society | Tomorrow is built today.
---