Foresight
Αυτός ο κατάλογος περιλαμβάνει τα Πράσινα Βιβλία που δημοσιεύθηκαν από το 1985 και σας δίνει πρόσβαση στο πλήρες κείμενο ή συνοπτικό κείμενο . Εάν το πλήρες ηλεκτρονικό κείμενο δεν είναι διαθέσιμο, ένας σύνδεσμος με το δελτίο σύνοψης ή το δελτίο της Ευρωπαϊκής Ένωσης σας επιτρέπει να λάβετε γνώση του περιεχομένου του πράσινου βιβλίου. Ορισμένα έγγραφα που έχουν δημοσιευθεί πριν από το 1993 ενδέχεται ωστόσο να μην είναι διαθέσιμα on-line. Μπορείτε να προμηθευτείτε αντίτυπα Πράσινων Βιβλίων που δεν υπάρχουν σε ηλεκτρονική μορφή ή που δεν διατίθενται στις 11 γλώσσεςαπό τον κοντινότερο πωλητή της Υπηρεσίας Επίσημων Εκδόσεων των Ευρωπαϊκών Κοινοτήτων. Για να παραγγείλετε χρησιμοποιείστε τον κωδικό αριθμό: COM(98)596 596 (όπου 98 = έτος και 596 = αριθμός έκδοσης Τα έγγραφα που είχαν δημοσιευθεί πριν την εισχώρηση μίας συγκεκριμένης χώρας μπορεί να μην είναι διαθέσιμα στην γλώσσα της χώρας.
European Union Documents - European Commission - Green papers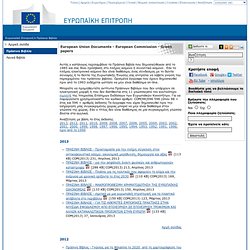 Smart Cities Financing Guide The Smart Cities Council has released a first of its kind tool, which helps cities understand their financing options for technology project. The Smart Cities Financing Guide, developed in partnership with Arizona State University Center for Urban Innovation, outlines 28 of the most promising financial tools for urban infrastructure enhancements. Continue reading… Apps4Thessaloniki competition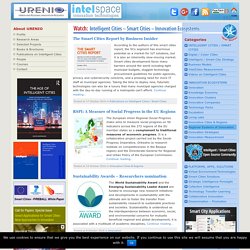 Intelligent Cities - Smart Cities - Innovation Εcosystems - URENIO Watch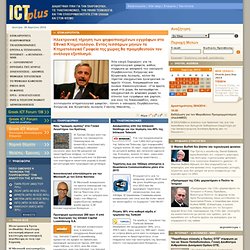 Η Ευρωπαϊκή Επιτροπή ενέκρινε την χρηματοδότηση τριών σημαντικών έργων προϋπολογισμού 389,4 εκατ. ευρώ από το Ευρωπαϊκό Ταμείο Περιφερειακής Ανάπτυξης (ΕΤΠΑ), οι οποίες θα συμβάλουν στην επαναφορά της αναπτυξιακής πορείας της ελληνικής οικονομίας, στον εκσυγχρονισμό της Δημόσιας Διοίκησης, [ Σύζευξις ΙΙ ], στην διασύνδεση της Δευτεροβάθμιας και της Πρωτοβάθμιας Εκπαίδευσης με το Διαδίκτυο και την επέκταση της σύνδεσης με τις υπηρεσίες Διαδικτύου υψηλής ταχύτητας για περισότερους από 600 χιλιάδες πολίτες που ζουν σε αγροτικές και απομακρυσμένες περιοχές [ Rurals ]. ...
ICT plus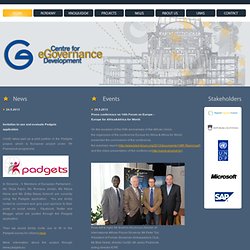 Centre for eGovernance Development (CeGD)
Invitation to use and evaluate Padgets application CeGD takes part as a pilot partner in the Padgets project, which is European project under 7th Framework programme. In Slovenia - 4 Members of European Parliament - Ms Tanja Fajon, Ms Romana Jordan, Ms Mojca Kleva and Ms Zofija Mazej Kukovič are currently using the Padgets application. You are kindly invited to comment and give your opinions to their posts on social media - Facebook, Twitter and Blogger which are posted through the Padgets application. Then we would kindly invite you to fill in the Padgets survey for citizens here. More information about the project through www.padgets.eu
Futures Matrix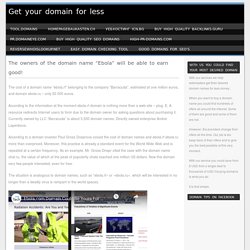 With Oktober 2009, the European Foresight Monitoring Network is relaunched and changed to The European Commission under its Framework Programme 7 is providing the means to continue the important networking activities of foresight initiatives. Setting out on the previous work of the European Foresight Monitoring Network and ForLearn the new European Foresight Platform resumes its work. We are grateful to the community of correspondents and their valuable contributions that have filled EFMN activities with live so far and we hope to continue the fruitful work. If you are a foresight practitioner or are interested in foresight you can become a member of our community. Write to Susanne.Giesecke@ait.ac.at This e-mail address is being protected from spam bots, you need JavaScript enabled to view it to learn more about the following three years, the activities planned and how you can contribute and be an active part of the network.
Home - EFMN - European Foresight Monitoring Network
FOR-LEARN
A is a "story" illustrating visions of possible future or aspects of possible future. It is perhaps the most emblematic Foresight or future studies method. Scenarios are not predictions about the future but rather similar to simulations of some possible futures.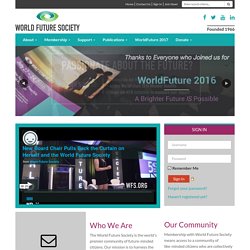 World Future Society | Tomorrow is built today.
Yul Anderson is founder and president of Yul Anderson Consulting, he is also working with African leaders, historians, and the U.S. Census Department to develop economic indicators for African American and African Future economic and social development. Miami, Florida, USA. Gilbert Raiford is a university professor, mental health consultant, and expert on social issues affecting African Americans. Miami, Florida, USA.