Victor Hugo
Victor Hugo » Revolutionaries « Great People. Victor Hugo26 February 1802 - 22 May 1885 Victor Hugo was a great author, poet, artist and political ideologist of the 19th century.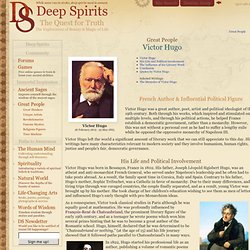 Both through his works, which inspired and stimulated on multiple levels, and through his political actions, he helped France establish a democratic government, rather than a monarchy. Victor hugo. Victor Hugo. Victor Marie Hugo (French pronunciation: ​[viktɔʁ maʁi yɡo]; 26 February 1802 – 22 May 1885) was a French poet, novelist, and dramatist of the Romantic movement.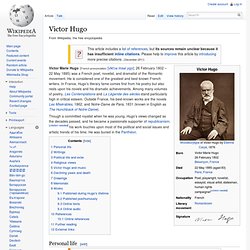 He is considered one of the greatest and best known French writers. In France, Hugo's literary fame comes first from his poetry but also rests upon his novels and his dramatic achievements. Among many volumes of poetry, Les Contemplations and La Légende des siècles stand particularly high in critical esteem. Outside France, his best-known works are the novels Les Misérables, 1862, and Notre-Dame de Paris, 1831 (known in English as The Hunchback of Notre-Dame).
Pictures
Victor Hugo - Home Page. Chateaubriand's. Influential.
---