Victor Hugo
Victor Hugo26 February 1802 - 22 May 1885 Victor Hugo was a great author, poet, artist and political ideologist of the 19th century. Both through his works, which inspired and stimulated on multiple levels, and through his political actions, he helped France establish a democratic government, rather than a monarchy.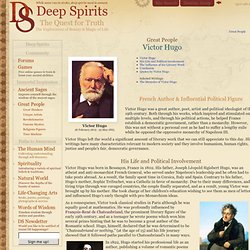 Victor Hugo » Revolutionaries « Great People
victor hugo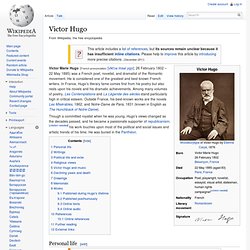 Victor Marie Hugo (French pronunciation: ​[viktɔʁ maʁi yɡo]; 26 February 1802 – 22 May 1885) was a French poet, novelist, and dramatist of the Romantic movement. He is considered one of the greatest and best known French writers. In France, Hugo's literary fame comes first from his poetry but also rests upon his novels and his dramatic achievements. Among many volumes of poetry, Les Contemplations and La Légende des siècles stand particularly high in critical esteem. Outside France, his best-known works are the novels Les Misérables, 1862, and Notre-Dame de Paris, 1831 (known in English as The Hunchback of Notre-Dame).
Victor Hugo
Victor Hugo left France in 1851 for an exile that would last 19 years. Following a short period of time in Jersey Victor Hugo came to Guernsey and was instantly captivated by the island. During his fifteen years on the island he made a lasting impression and wrote some of his most famous works. Victor Hugo's home, for most of his exile in Guernsey, was Hauteville House, which remains today as it was left, allowing visitors to see his individual style of decoration.
Victor Hugo - Home Page
Chateaubriand's
influential