Scientology
Scientology. Scientology is a body of beliefs and related practices created by science fiction writer L.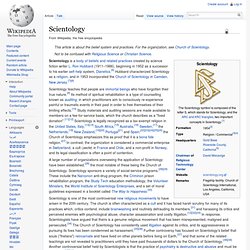 Ron Hubbard (1911–1986), beginning in 1952 as a successor to his earlier self-help system, Dianetics.[6] Hubbard characterized Scientology as a religion, and in 1953 incorporated the Church of Scientology in Camden, New Jersey.[7][8] A large number of organizations overseeing the application of Scientology have been established,[28] the most notable of these being the Church of Scientology. Scientology sponsors a variety of social-service programs.[28][29] These include the Narconon anti-drug program, the Criminon prison rehabilitation program, the Study Tech education methodology, the Volunteer Ministers, the World Institute of Scientology Enterprises, and a set of moral guidelines expressed in a booklet called The Way to Happiness.[30] Scientology is one of the most controversial new religious movements to have arisen in the 20th century.
Official Dianetics Site: Buy Books by L Ron Hubbard: Watch Movies about Dianetics - Dianetics: An Introduction.
The Way To Happiness. Narconon. Criminon. Official Church of Scientology: L. Ron Hubbard, What is Scientology?, Beliefs & Practices, Books, David Miscavige. On Wednesday, September 12, national dignitaries joined more than a thousand Scientologists and guests to celebrate the grand opening of the Church of Scientology's National Affairs Office in Washington, D.C. learn more On August 21, national and city dignitaries as well as religious leaders joined Scientologists from Israel and 27 nations to celebrate the opening of the new Center of Scientology in Tel Aviv.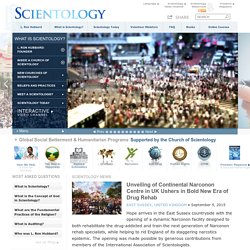 On Saturday, July 28, fifteen hundred Scientologists from across the San Francisco Bay Area gathered to rededicate the Church of Scientology Los Gatos. The Way To Happiness. The Way to Happiness is a 1980 booklet written by Scientology founder L.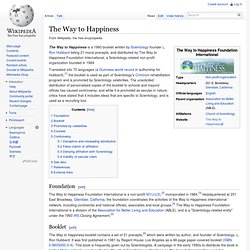 Ron Hubbard listing 21 moral precepts, and distributed by The Way to Happiness Foundation International, a Scientology-related non-profit organization founded in 1984. Translated into 70 languages (a Guinness world record in authorship for Hubbard),[1] the booklet is used as part of Scientology's Criminon rehabilitation program and is promoted by Scientology celebrities. The unsolicited distribution of personalised copies of the booklet to schools and mayors' offices has caused controversy, and while it is promoted as secular in nature, critics have stated that it includes ideas that are specific to Scientology, and is used as a recruiting tool. Foundation[edit] Criminon. "Second Chance", another prison-based rehabilitation program for prisoners, is closely related to Criminon, from which it licenses the techniques and materials used in its program.[2] Criminon is said to be a prison-based version of Narconon, as the Purification Rundown detoxification and training procedures are also parts of the program.[4] Criminon's program[edit] The program has used correspondence materials to treat hundreds of prisoners at the high security California State Prison, Corcoran, beginning in 1990.[5] Criminon is administered by the Association for Better Living and Education (ABLE), a nonprofit organization that administers Criminon, Narconon, and other "social betterment" programs.[6]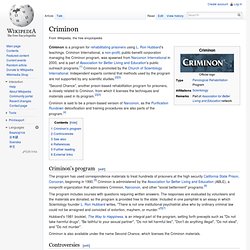 Narconon. Narconon International is an organisation which promotes L.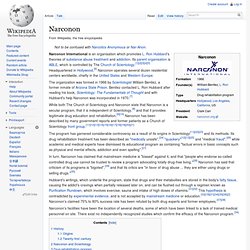 Ron Hubbard's theories of substance abuse treatment and addiction. Its parent organisation is ABLE, which is controlled by The Church of Scientology.[1][2][3][4][5] Headquartered in Hollywood,[6] Narconon operates several dozen residential centers worldwide, chiefly in the United States and Western Europe. The organization was formed in 1966 by Scientologist William Benitez, a former inmate of Arizona State Prison. Benitez contacted L. Ron Hubbard after reading his book, Scientology: The Fundamentals of Thought and with Hubbard's help Narconon was incorporated in 1970.[7] Applied Scholastics. Applied Scholastics is a non-profit corporation founded in 1972 to promote the use of study techniques created by L.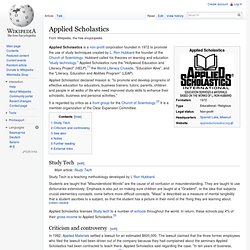 Ron Hubbard the founder of the Church of Scientology. Hubbard called his theories on learning and education "study technology. " Applied Scholastics International | Study Technology to Overcome Any Learning Problem. Scientology.
---