Poems
Instagram. Poems. Poetry. Do not stand at my grave and weep. Do Not Stand at My Grave and Weep is a poem written in 1932 by Mary Elizabeth Frye.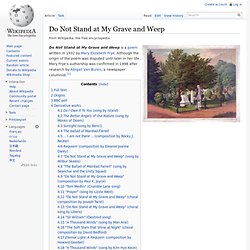 Although the origin of the poem was disputed until later in her life, Mary Frye's authorship was confirmed in 1998 after research by Abigail Van Buren, a newspaper columnist.[1] Full text[edit] Do not stand at my grave and weep, Poetry. History Poetry as an art form may predate literacy.[8] Epic poetry, from the Indian Vedas (1700–1200 BC) and Zoroaster's Gathas to the Odyssey (800–675 BC), appears to have been composed in poetic form to aid memorization and oral transmission, in prehistoric and ancient societies.[9] Other forms of poetry developed directly from folk songs.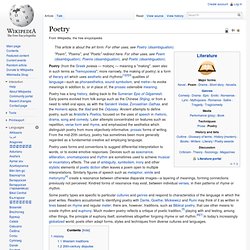 The earliest entries in the ancient compilation Shijing, were initially lyrics, preceding later entries intended to be read.[10] Quote,typography,life,quotes,text,frase-5df3a53bf4497e75b9fbd4be277c51bd_h.jpg (450×416) Girls are like... A poem about death and the life hereafter. "The Spoon," a poem by Richard Jones. Self Worth Poems.
---