Drawing
How To Draw A Wave | Club Of The Waves. This art tutorial, kindly donated by surfing comic strip illustrator and surf artist Bob Penuelas covers how to draw a wave the Wilbur Kookmeyer way!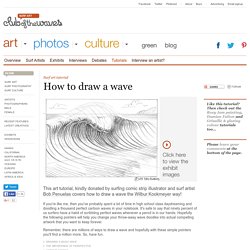 If you're like me, then you've probably spent a lot of time in high school class daydreaming and doodling a thousand perfect cartoon waves in your notebook. It's safe to say that ninety percent of us surfers have a habit of scribbling perfect waves whenever a pencil is in our hands. Hopefully the following pointers will help you change your throw-away wave doodles into actual compelling artwork that you want to keep forever. Charmander-cake. The-baffling-pinocchio-paradox-17605-1277075492-29.jpg (481×700) Fwh9h4.jpg (589×1598) Drawing. Two young women (one drawing) in front of the Barberini Faun in Munich Drawing is a form of visual art that makes use of any number of drawing instruments to mark a two-dimensional medium.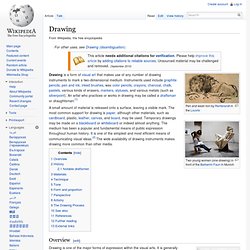 Instruments used include graphite pencils, pen and ink, inked brushes, wax color pencils, crayons, charcoal, chalk, pastels, various kinds of erasers, markers, styluses, and various metals (such as silverpoint). An artist who practices or works in drawing may be called a draftsman or draughtsman.[1] A small amount of material is released onto a surface, leaving a visible mark. The most common support for drawing is paper, although other materials, such as cardboard, plastic, leather, canvas, and board, may be used. Dance of the flight attendant. Pencil-drawing-joyfulspirit-drawing.jpg (341×450) Drawing_hands.gif (410×348) 45343929.jpg (1200×848) 40 Free Tutorials on Advanced Drawing Techniques. The traditional form of drawing and sketching is a highly sought after skill.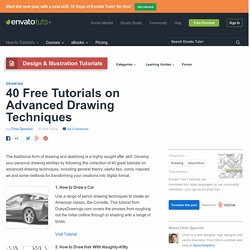 Develop your personal drawing abilities by following this collection of 40 great tutorials on advanced drawing techniques, including general theory, useful tips, comic inspired art and some methods for transforming your creations into digital format. 1. How to Draw a CarUse a range of pencil drawing techniques to create an American classic, the Corvette.
---