Travel
Haven in Paris Luxury Vacation Apartment Rental: Livingstone Penthouse, Montmartre Apartment Rental. 18eme ardt, Paris, France metro: Anvers (Line 2) & Abbesses (Line 12) size: 35m2 or 377 Sq Ft. sleeps: up to 4 / kids ok: all ages baths: 1 full w/shower & tub air conditioning: nofans: yes floor number: european 7th elevator: yes This beautiful Paris penthouse studio apartment is located on the top floor (with elevator) of a typical Parisian building.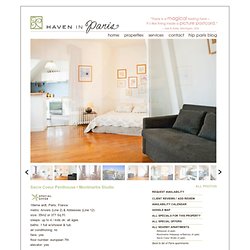 From inside the apartment there is a spectacular view of Sacre Coeur and Montmartre - possibly one of the most romantic views in all of Paris. The apartment consists of a single large room that serves as bedroom and living/dining area, a separate and fully equipped kitchen with breakfast bar, and a full bath (American shower and bathtub) as well a separate WC with toilet. Plnnr - plan the perfect trip, automatically! Conde Nast Traveler : Truth in Travel.
Articles?
15 Amazing Castles from Around the Globe. Although designed and built for the prominent purpose of defense, today the castles seem like somewhat unrealistic constructions straight from the fairytale world.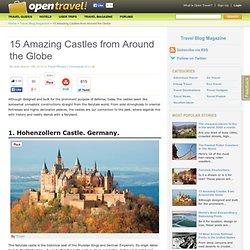 From solid strongholds to oriental fortresses and highly decorative palaces, the castles are our connection to the past, where legends mix with history and reality blends with a fairyland. This fairytale castle is the historical seat of the Prussian Kings and German Emperors.
---