Competitors
Extended Rewards Network (ERN) | RewardsNOW, Dover, NH. We designed the Extended Rewards Network (ERN) to encompass all the critical elements in one turnkey process.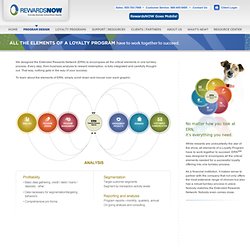 Every step, from business analysis to reward redemption, is fully integrated and carefully thought out. That way, nothing gets in the way of your success. To learn about the elements of ERN, simply scroll down and mouse over each graphic. Own — Unlike any other. Coupon Software for Marketing & Media Companies:- COUPONPAQ, The Best Web & Mobile Coupon Software. Incentive Targeting - Home. CrowdTwist.com | Customer Loyalty | Home.
Paycloud | SparkBase. We used our robust loyalty engine, LoyaltyOS, to create out-of-the-box loyalty solutions customized for small businesses.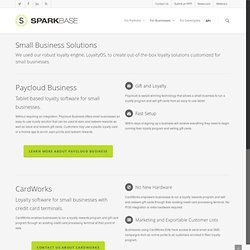 Tablet-based loyalty software for small businesses. Without requiring an integration, Paycloud Business offers small businesses an easy-to-use loyalty solution that can be used to earn and redeem rewards as well as issue and redeem gift cards. Customers may use a plastic loyalty card or a mobile app to enroll, earn points and redeem rewards.
---