Tablets / Computers
Tablets - Gizmodo. Notion Ink Adam priced at $498, lives up to promise of being below $499. Notion Ink, the plucky Indian startup intent on shaking up the tablet industry, was most recently spotted turning over the sofa cushions looking for spare change, but that isn't stopping the company from announcing pricing for its mythical first product.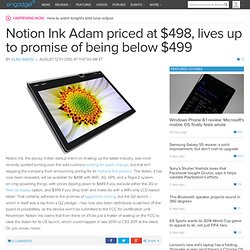 The Adam, it has now been revealed, will be available for $498 with WiFi, 3G, GPS, and a Tegra 2 system-on-chip powering things, with prices dipping down to $449 if you exclude either the 3G or Pixel Qi display option, and $399 if you drop both and make do with a WiFi-only LCD-based tablet. That certainly adheres to the promise of aggressive pricing, but the Q3 launch -- which in itself was a slip from a Q2 pledge -- has now also been definitively scratched off the board of possibilities, as the device won't be submitted to the FCC for certification until November. Tablets - Gizmodo. Notion Ink Adam Tablet Caught On Video, Specs Finalized.
Notion Ink Adam. Tablet. Google working on iPad like tablet! Google is seriously interested in spreading its wings.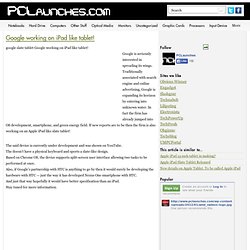 Traditionally associated with search engine and online advertising, Google is expanding its horizon by entering into unknown water. In fact the firm has already jumped into OS development, smartphone, and green energy field. If new reports are to be then the firm is also working on an Apple iPad like slate tablet! The said device is currently under development and was shown on YouTube. Google CEO confirms tablet PC. We knew Google was developing a tablet PC in association with HTC.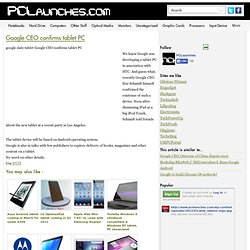 And guess what, recently Google CEO Eric Schmidt himself confirmed the existence of such a device. Soon after dismissing iPad as a big iPod Touch, Schmidt told friends about the new tablet at a recent party in Los Angeles. The tablet device will be based on Android operating system. Google is also in talks with few publishers to explore delivery of books, magazines and other content on a tablet. No word on other details. Cruz Tablet. Android tablets. Android Central. Android tablets. Android Tablet Forum. Tablet. Screen reader users, click here to turn off Google Instant.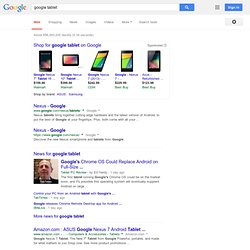 About 856,000,000 results SponsoredBased on your search query, we think you are trying to find a product. Clicking in this box will show you results from providers who can fulfill your request. Google may be compensated by some of these providers.Prices do not include shipping costs. Android-based iPad knockoff gets unboxed for real - Engadget Galleries. Sanxi Android iPad KIRF hands-on - Engadget Galleries. MeeGo tablet hands-on - Engadget Galleries. ASUS Eee Tablet unveil Computex 2010 - Engadget Galleries. ASUS Eee Tablet unveil Computex 2010 - Engadget Galleries.
MeeGo tablet hands-on - Engadget Galleries. Sanxi Android iPad KIRF hands-on - Engadget Galleries. Android-based iPad knockoff gets unboxed for real - Engadget Galleries. Pandigital Novel preview - Engadget Galleries. $99 Color E-Reader and Social Platform to Challenge Amazon, B&N This Fall. Following recent price cuts on Amazon's Kindle 2 and Barnes & Noble's Nook, a new manufacturer is set to stir up even more competition in the e-reader pricing wars with the debut of a $99 color device this fall.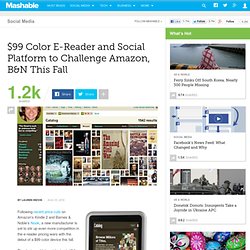 The device, which weighs in at .42 lbs and features a 5-inch, 800x480-pixel, color LCD display, 2GB of storage, 64MB of RAM, 2G of Flash Memory and up to four hours of battery life, is just one in a line of devices Copia, a subsidiary of DMC Worldwide, plans to introduce. Other devices include a 7-inch color e-reader for $129.99, two 6-inch black-and-white e-readers that closely resemble the Kindle 2 for $149.99 without Wi-Fi and $159.99 with Wi-Fi, and a $299.99 10.1-inch Wi-Fi-enabled color tablet.
"We want to make e-reading more accessible to a mass audience," said Tony Antolino, senior VP of DMC Worldwide and Copia. "Not everyone can afford all of the higher end devices. " Tablet. Dell's 7-inch and 10-inch Streak tablets leaked! We'd heard through the grapevine that the engineers at Round Rock were working on a number of slates to fill the Streak lineup, but man, we didn't see this coming... at least not yet.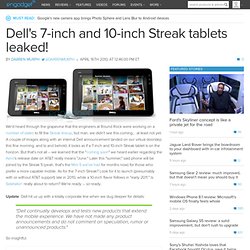 A couple of images along with an internal Dell announcement landed on our virtual doorstep this fine morning, and lo and behold, it looks as if a 7-inch and 10-inch Streak tablet is on the horizon. But that's not all -- we learned that the "coming soon" we heard earlier regarding the Aero's release date on AT&T really means "June.
" Dell Streak (AT&T) - At A Glance - Reviews by PC Magazine.
Toshiba
Google searches. Acer. LG. HP. Samsung. .:SlateDroid | Android Tablet Forum:. - Android Tablet Forum. 9 Upcoming Tablet Alternatives to the Apple iPad. The Apple iPad cat is officially out of its bag, but it's not going to be the only tablet game in town.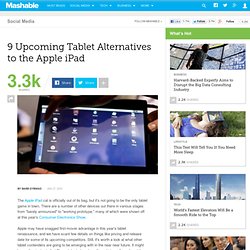 There are a number of other devices out there in various stages from "barely announced" to "working prototype," many of which were shown off at this year's Consumer Electronics Show. Apple may have snagged first-mover advantage in this year's tablet renaissance, and we have scant few details on things like pricing and release date for some of its upcoming competitors. Still, it's worth a look at what other tablet contenders are going to be emerging with in the near near future. Tablets & al. MeeGo Moorestown-powered tablet preview. We saw a lot of new technology demoed at Intel's Computex keynote this afternoon, but the most impressive thing may have just been MeeGo running on a 10-inch Moorestown Quanta Redvale tablet.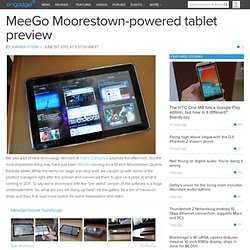 While the demo on stage was very brief, we caught up with some of the product managers right after the presser and convinced them to give us a peek at what is coming in 2011. To say we're impressed with the "pre-alpha" version of the software is a huge understatement. So, what are you still doing up here? Hit the gallery for a ton of hands-on shots and then that read more button for some impressions and video. MeeGo tablet hands-on. ExoPC Slate hands-on. We don't say this very often, but some products are just worth the wait.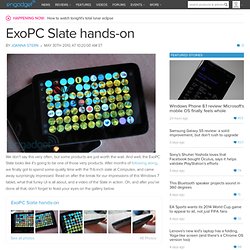 And well, the ExoPC Slate looks like it's going to be one of those very products. After months of following along, we finally got to spend some quality time with the 11.6-inch slate at Computex, and came away surprisingly impressed. Read on after the break for our impressions of this Windows 7 tablet, what that funky UI is all about, and a video of the Slate in action. Oh, and after you've done all that, don't forget to feast your eyes on the gallery below. ExoPC Slate hands-on. IiView M1Touch is a 10-inch iPhone tablet, seriously (video) -- Always thought the iPad should've really just been an enlarged iPhone?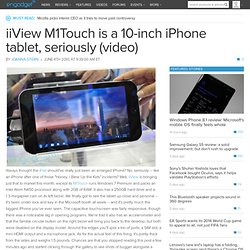 No, seriously -- like an iPhone after one of those "Honey, I Blew Up the Kids" incidents? Well, iiView is bringing just that to market this month, except its M1Touch runs Windows 7 Premium and packs an Intel Atom N450 processor along with 2GB of RAM.
---