Web Standards
Web Developer's Handbook | CSS, Web Development, Color Tools, SEO, Usability etc. Vitaly Friedman's The Web Developer's Handbook creativity | css galleries & showcases | color tools | color schemes, palettes | color patterns | fashion: colors selection | color theory | royalty free photos | css daily reading | web design daily reading | css layouts | css navigation menus | css techniques | css: software & Firefox Extensions | css-web-tools & services | html-web-tools & services | accessibility checkers | miscellaneous tools | ajax | javascript | DOM | fonts | typography | RSS | CMS | blogging | specifications | usability & accessibility | add a link (free) | seo tools | seo references | howtogetthingsdone | freelancers resources | web2.0 | 2read Advertise here!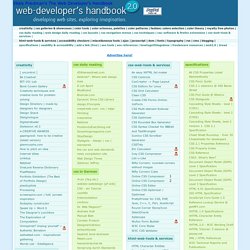 40 Online Generators for Web Designers Should Bookmark. Online Generators for Web Designers can be a great way to save time in your web design projects.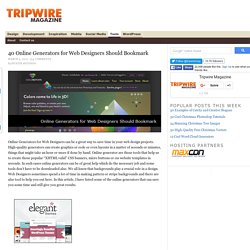 High-quality generators can create graphics or code or even layouts in a matter of seconds or minutes, things that might take an hour or more if done by hand. Online generator are those tools that help us to create those popular "XHTML valid" CSS banners, micro buttons or css website templates in seconds. In such cases online generators can be of great help which do the necessary job and some tools don't have to be downloaded also. We all know that backgrounds play a crucial role in a design. Web Designers sometimes spend a lot of time in making pattern or stripe backgrounds and there are also tool to help you out here. Web Page Analyzer - free website optimization tool website speed test check website performance report from web site optimization.
Free Website Performance Tool and Web Page Speed Analysis Try our free web site speed test to improve website performance.
Enter a URL below to calculate page size, composition, and download time. The script calculates the size of individual elements and sums up each type of web page component. Based on these page characteristics the script then offers advice on how to improve page load time. The script incorporates the latest best practices from Website Optimization Secrets, web page size guidelines and trends, and web site optimization techniques into its recommendations.
Check Browser Compatibility, Cross Platform Browser Test - Browsershots. The W3C Markup Validation Service. The W3C QA Toolbox - Validators, checkers and other tools for Webmasters and Web Developers. About W3C QA Tools Indispensable for the professional Webmaster, Web Designer or Web Developer, these tools are all free and Open Source.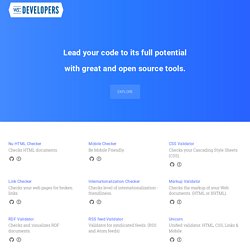 The W3C's main production are its specifications, but in the core of its philosophy is the belief that the natural complement to specifications is running code. Can coding errors affect how a page is indexed? W3C Validation & SEO - Yoast - Tweaking Websites.
---