Tools
Enquete Maken - Gratis online enquete tool. Educreations. History ::Home - TimeSearch. Search the Web through Timelines(and surprise yourself with what you find) Icons on the left link to Google or HistoryWorld (H) Yellow icons on the right link to related images in GoogleMove your pointer over an icon to see the search terms To start at Big Bang just click Go (above)To go to a specific period enter a year (above)For a more focused timeline use the Areas and Themes menus (top left) Or you may prefer Single-subject Timelines Or try.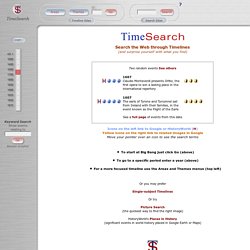 Quipol. Thousands of you have built polls to learn from and interact with the world, and I want to thank you now for your patronage, your feedback, and all the excitement that you have brought to my life.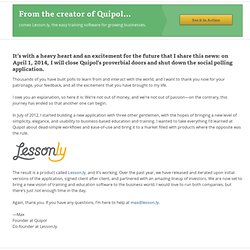 I owe you an explanation, so here it is: We're not out of money, and we're not out of passion—on the contrary, this journey has ended so that another one can begin. In July of 2012, I started building a new application with three other gentlemen, with the hopes of bringing a new level of simplicity, elegance, and usability to business-based education and training. I wanted to take everything I'd learned at Quipol about dead-simple workflows and ease-of-use and bring it to a market filled with products where the opposite was the rule. The result is a product called Lesson.ly, and it's working. Tagxedo - Word Cloud with Styles. Collaborative annotation of images online | SpeakingImage. Socrative | Student response system | Engage audiences. Vizualize.me: Visualize your resume in one click.
Twtpoll - From Simple Twitter Polls to Powerful Web Surveys. Social Media Feedback Tool. Fill Any PDF Form. Pancake.io. S Werelds beste manier om strips te maken en delen. FlipSnack | PDF to Flash page flip - flipping book software. Collaborative storytelling. TinyURL.com - shorten that long URL into a tiny URL.
Museum Box Homepage. Maak een sociogram in een handomdraai met Sometics. Sociogram.nl is vernieuwd en heet voortaan Sometics.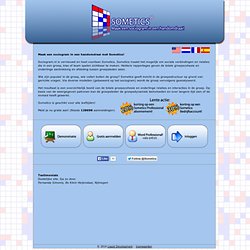 Sometics maakt het mogelijk om sociale verbindingen en relaties die in een groep, klas of team spelen zichtbaar te maken. Heldere rapportages geven de totale groepscohesie en onderlinge aantrekking en afstoting tussen groepsleden weer. Wie zijn populair in de groep, wie vallen buiten de groep? Sometics geeft inzicht in de groepsstructuur op grond van gerichte vragen. Highlight web with Marker.to - best marker, highlighter, annotator!
---