Music
Research Songsmith
What is Songsmith? Songsmith generates musical accompaniment to match a singer's voice. Just choose a musical style, sing into your PC's microphone, and Songsmith will create backing music for you. Then share your songs with your friends and family, post your songs online, or create your own music videos.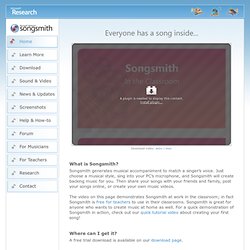 Radiofy - Converteer playlists van op de radio naar Spotify-playlists
Research Songsmith
<div id="noscript">Please enable JavaScript in order to use Audiotool.</div> make music in your browser Watch VideoLearn more Next Chart Update: 2014-01-30 Fantastically bleak ambient soundscape.
Technical advances in mobile phones have caused an explosion in their use around the world. Along with the popularity of carrying mobile phones, the use of ringtones has also increased which are applied to differentiate between callers as well as to make cell phone use more fun. In the past, ringtones have generally been purchased from online sites and other mobile phone companies that promote them in their pre-made forms.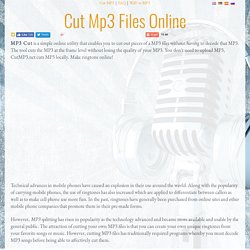 Luister naar internetradio's. Creëer je eigen radio. Gratis met Radionomy