La typo - Des Outils
Typominima - WordPress theme
Welcome fellow blogger to the demo installation of Typominima, a gorgeous typography based minimal WordPress theme fit for those just like you, people with a strong appetite for writing and publishing in a beautiful environment! In a time when every other blog and WordPress theme focuses solely on adding more and more advertising space, Typominima is the theme that puts your writings in the spotlight. Typominima is not a tool to make money online. Typominima is a theme that invites you to create, to express yourself, to let your ideas flow through characters on HTML like ink on paper.
UPDATE Oct 24: We have released version 1.09i, which is the same as 1.09 but IE9-compatible. 1.10 is on its way as well. Keep in mind that you do not need to convert your font files again, just replace your old cufon-yui.js with a new one and you're good to go. As it currently stands, version 1.09 does not work in IE9 beta which was just released. Just in case it doesn't work in the final version either, we've implemented a fix in the latest development version. There will be a new release some time in the near future. Meanwhile, there are also a few ways to fix your site without having to update your cufon-yui.js.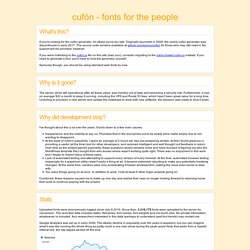 CSS 3 is on the horizon, and we're all getting excited. Thanks to the latest browser updates, developers can begin working with time-saving new properties - such as @font-face. Unfortunately, the availability of these features is limited to a tiny fraction of our overall userbase.
The Easiest Way to Use Any Font You Wish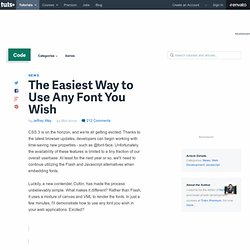 Free online font converter The Online Font Converter is a 100% free service. The Online Font Converter converts fonts to/from: .pdf .dfont .eot .otf .pfb .tfm .pfm .suit .svg .ttf .pfa .bin .pt3 .ps .t42 .cff .afm .ttc & .woff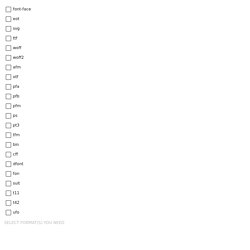 With typeface. js you can embed custom fonts in your web pages so you don' t have to render text to images. NEW! Version 0.15 is released, now with support for Internet Explorer 9. typeface. js is easy... Instead of creating images or using flash just to show your site's graphic text in the font you want, you can use typeface.js and write in plain HTML and CSS, just as if your visitors had the font installed locally. Here's what it takes to get going: load the typeface.js library and some typeface.js fonts, then proceed like normal: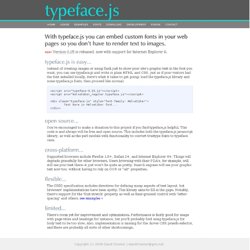 Looking for FLIR (Facelift Image Replacement)? You're in the right place. I created the web font polyfill known as FLIR to be an alternative to sIFR, however, it is no longer needed and is effectively dead.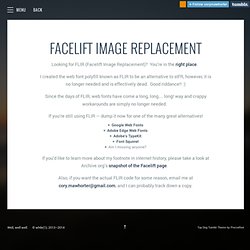 OTF Harmonizer 1.1 Free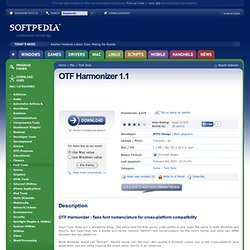 Open Type fonts are a wonderful thing. The same font file that works cross-platform and looks the same in both Windows and MacOS. But OpenType has a subtle and rarely noticed "defect": the nomenclature for the font's family and style can differ between the two platforms.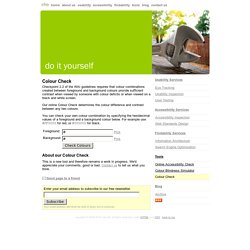 Checkpoint 2.2 of the WAI guidelines requires that colour combinations created between foreground and background colours provide sufficient contrast when viewed by someone with colour deficits or when viewed on a black and white screen. Our online Colour Check determines the colour difference and contrast between any two colours. You can check your own colour combination by specifying the hexidecimal values of a foreground and a background colour below. For example use #FF0000 for red, or #000000 for black. This is a new tool and therefore remains a work in progress. We'd appreciate your comments, good or bad.
Google's free font directory is one of the most exciting developments in web typography in a very long time. The amazing rise of this new font resource has made this plugin the most popular font plugin on WordPress and it shows no signs of stopping. While font plugin solutions like FontBurner.com have helped bring rich typography to WordPress themes, the selection of fonts easily available to the average blogger have been limited. The WP Google Font plugin makes it even easier to use Google's free service to add high quality fonts to your WordPress powered site.
WP Google Fonts