Traveling
Though Jon Setzer has always had high expectations of himself, when he graduated from CWU in the spring of 2012 to a well-paying job and a promising career, it was a surprise to both him and his pare... Read More Eleven Central Washington University students and recent grads spent some of their spring break in Mexico, but it wasn't your typical co-ed party on a sun-soaked beach. The group, led by CWU profes...
Central Washington University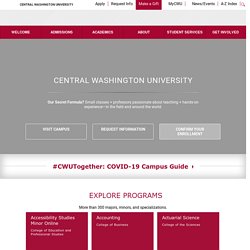 Gonzaga University, Spokane Washington
University of Washington - Official
Seattle Aquarium
Space Needle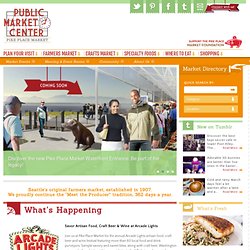 Seattle's original farmers market, established in 1907. We proudly continue the "Meet the Producer" tradition, 362 days a year. Savor Artisan Food, Craft Beer & Wine at Arcade Lights Join us at Pike Place Market for the annual Arcade Lights artisan food, craft beer and wine festival featuring more than 60 local food and drink purveyors. Sample savory and sweet bites, along with craft beer, Washington wine and other drinks at this one-night taste fest! Tickets and more info: arcadelights.brownpapertickets.com
Pike Place Market
By SW Staff | Apr 18 2014, 11:27 a.m. By MegaN Hill | Apr 18 2014, 09:51 a.m. By Zach Geballe | Apr 18 2014, 09:51 a.m. By Matt Driscoll | Apr 17 2014, 03:49 p.m.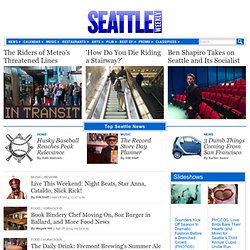 The Montana Green Party | The Montana Green Party is a progressive political organization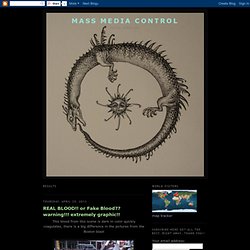 Montana Matters
Most likely a US government or Mossad operation. It will be interesting to watch this one unfold. I imagine the watchers are tracking communication now to ferret out links and connections of potential trouble makers!!
Carroll College - A private, Catholic, liberal arts & professional college
Future Students - The University Of Montana
Montana Attorney General and UM alumnus Tim Fox speaks during the 2014 Mansfield Conference, "Fight for Hope and Freedom: Human Trafficking, Montana and the World," which was held at UM April 15-17. The event brought together leading experts, national activists, members of the university community, Montanan civic and business leaders, media, state law enforcement and federal and state political leaders to discuss how we can promote greater awareness and contribute to fighting human trafficking. Submit photo and story ideas to thrive@umontana.edu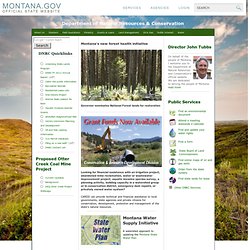 Department of Natural Resources and Conservation Homepage
Montana's new forest health initiative Governor nominates National Forest lands for restoration Looking for financial assistance with an irrigation project, abandoned mine reclamation, water or wastewater improvement project, aquatic invasive species survey, a planning activity, building capacity in a watershed group or in conservation district, emergency dam repairs, or privately owned water system? CARDD can provide technical and financial assistance to local governments, state agencies and private citizens for conservation, development, protection and management of the state's natural resources.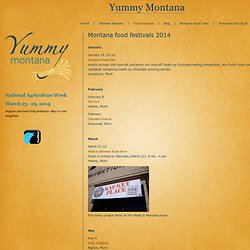 Yummy Montana - Montana food festivals 2011
January January 19, 23-26 Montana Winter Fair events include chili cook-off, cinnamon roll cook-off, Death by Chocolate baking competition, and Dutch oven cooking—watch for the cookbook containing Death by Chocolate winning entries Lewistown, Mont. February February 8 Feb Fest Helena, Mont. February Chocolate Festival Anaconda, Mont.
Lose Yourself Finding the Best of Montana | Get Lost in Montana
Home Marathon | Run Wild Missoula
Glacier National Park
Mother Nature's best work Glacier National Park is the center of one of the largest and most intact ecosystems in North America. The views from the cliff-strewn Going-to-the-Sun Road over the Continental Divide make a visit worthwhile, but the experience from inside a car or one of the Park's famous Red Jammer buses is just the tip of the icefield. Glacier's one million acres of turquoise alpine lakes, mountain goats and grizzly bears, craggy peaks, and of course, glaciers are almost guaranteed to leave visitors speechless.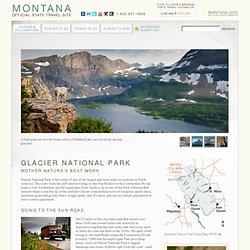 Glacier National Park, Montana: Lodging, Hiking and Backpacking Equipment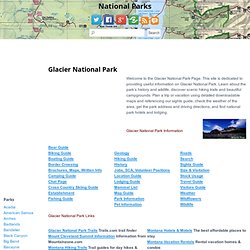 Glacier National Park
Welcome to the Glacier National Park Page. This site is dedicated to providing useful information on Glacier National Park. Learn about the park's history and wildlife, discover scenic hiking trails and beautiful campgrounds. Plan a trip or vacation using detailed downloadable maps and referencing our sights guide, check the weather of the area, get the park address and driving directions, and find national park hotels and lodging. Glacier National Park Information
Glacier National Park
Northwest Montana Travel Regions Glacier National Park is a stunningly beautiful ice-carved terrain of serrated ridges, jutting peaks, dramatic hanging valleys, 50 glaciers, more than 200 lakes, waterfalls and thick forests covering some 1.2-million acres. Deer are among the most commonly spotted wildlife but elk, moose, mountain goats, bighorn sheep, wolves, grizzly and black bears roam its wild vastness and are often seen by visitors. Just west of the town St. Mary (found on the east side of Glacier National Park) is the picturesque scene of St. Mary Lake along the Going-to-the-Sun-Road.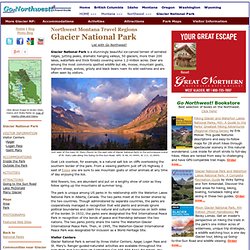 Glacier National Park Travel Guide and Directory.
YELLOWSTONE NATIONAL PARK
YELLOWSTONE NATIONAL PARK
Yellowstone National Park is the flagship of the National Park Service and a favorite to millions of visitors each year. The park is a major destination for all members of the family. By driving the grand loop road, visitors can view the park from the comfort of their vehicle and also take a rest at one of the many roadside picnic areas. For the active visitor, the park has thousands of miles of trails from dayhikes to backcountry explorations.
Yellowstone National Park.com - Visit Yellowstone National Park
Yellowstone National Park Guide
Yellowstone Yellowstone is the first national park in the world, and still today holds many geographical and pioneering records. March 1, 1872 marked the first day of park-hood and it is still the largest national park in the United States with well over 2 million acres to explore and enjoy. The park's highest point is Eagle Peak standing at a formidable 11,358 feet. Surprisingly, even the lowest point in the park is an impressive 5,282 feet above sea level. There are over 300 geysers in Yellowstone Park, as the whole of the park is considered to be an active volcano.
Summer in Yellowstone National Park
Madison River – Yellowstone National Park In. the Northwest corner of Wyoming lies Yellowstone National Park, the oldest, largest and most popular National Park in the continental United States. Few places on earth offer so much scenic and scientific interest in one area. Yellowstone is in the heart of the Rockies, a land of pine-clad mountains and broad, grassy valleys.
Yellowstone Net -- Yellowstone National Park Lodging, Hotel, Wildlife Information and More
Yellowstone National Park - Things To Do (U.S. National Park Service)
On August 29, 1870, a 30-year-old Army lieutenant named Gustavus Doane, part of an exploratory expedition in the Yellowstone region in the territory of Wyoming, scrambled his way to the summit of Mount Washburn above the Yellowstone River. Looking to the south, he noticed that something was missing from a stretch of the Rocky Mountains: mountains. For miles and miles, the only elevations were in the distance, forming parentheses around a huge forested basin. Doane saw only one way to explain the void. "The great basin," he wrote, "has been formerly one vast crater of a now extinct volcano."
Under Yellowstone — National Geographic Magazine
Yellowstone Has Bulged as Magma Pocket Swells
GRAND TETONS NATIONAL PARK
Louisiana Representatives
Lousiana State University System
LSU Shreveport
New Orleans Things To Do
New Orleans Events and Calendar - New Orleans, Louisisana