Traveling
TRAVEL. Washington. Central Washington University. Gonzaga University, Spokane Washington. University of Washington - Official. Seattle. Seattle. Seattle Aquarium. Seattle Eats... Dining. Parks. Space Needle. Art. Pike Place Market. Seattle Weekly. Nightlife. Montana. The Montana Green Party | The Montana Green Party is a progressive political organization.
Montana Matters. Carroll College - A private, Catholic, liberal arts & professional college. Montana State University. Future Students - The University Of Montana. Missoula stores. Department of Natural Resources and Conservation Homepage. Yummy Montana - Montana food festivals 2011.
January January 19, 23-26 Montana Winter Fair events include chili cook-off, cinnamon roll cook-off, Death by Chocolate baking competition, and Dutch oven cooking—watch for the cookbook containing Death by Chocolate winning entries Lewistown, Mont.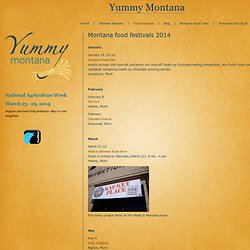 February February 8 Feb Fest Helena, Mont. February Chocolate Festival Anaconda, Mont. Lose Yourself Finding the Best of Montana | Get Lost in Montana. Home Marathon | Run Wild Missoula. NATIONAL PARKS. GLACIER NATIONAL PARK. Glacier National Park. Mother Nature's best work Glacier National Park is the center of one of the largest and most intact ecosystems in North America.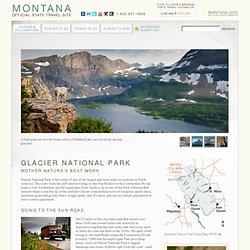 The views from the cliff-strewn Going-to-the-Sun Road over the Continental Divide make a visit worthwhile, but the experience from inside a car or one of the Park's famous Red Jammer buses is just the tip of the icefield. Glacier's one million acres of turquoise alpine lakes, mountain goats and grizzly bears, craggy peaks, and of course, glaciers are almost guaranteed to leave visitors speechless.
Glacier National Park, Montana: Lodging, Hiking and Backpacking Equipment. Glacier National Park. Glacier National Park. Glacier National Park Travel Guide and Directory. Northwest Montana Travel Regions Glacier National Park is a stunningly beautiful ice-carved terrain of serrated ridges, jutting peaks, dramatic hanging valleys, 50 glaciers, more than 200 lakes, waterfalls and thick forests covering some 1.2-million acres.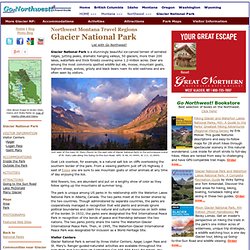 Deer are among the most commonly spotted wildlife but elk, moose, mountain goats, bighorn sheep, wolves, grizzly and black bears roam its wild vastness and are often seen by visitors. Just west of the town St. Mary (found on the east side of Glacier National Park) is the picturesque scene of St. Mary Lake along the Going-to-the-Sun-Road. YELLOWSTONE NATIONAL PARK. YELLOWSTONE NATIONAL PARK. Yellowstone National Park.com - Visit Yellowstone National Park. Yellowstone National Park Guide. Summer in Yellowstone National Park. Yellowstone Yellowstone is the first national park in the world, and still today holds many geographical and pioneering records.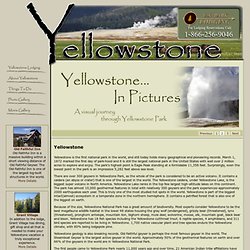 March 1, 1872 marked the first day of park-hood and it is still the largest national park in the United States with well over 2 million acres to explore and enjoy. The park's highest point is Eagle Peak standing at a formidable 11,358 feet. Surprisingly, even the lowest point in the park is an impressive 5,282 feet above sea level. There are over 300 geysers in Yellowstone Park, as the whole of the park is considered to be an active volcano.
Yellowstone Net -- Yellowstone National Park Lodging, Hotel, Wildlife Information and More. Yellowstone National Park - Things To Do. Under Yellowstone. On August 29, 1870, a 30-year-old Army lieutenant named Gustavus Doane, part of an exploratory expedition in the Yellowstone region in the territory of Wyoming, scrambled his way to the summit of Mount Washburn above the Yellowstone River.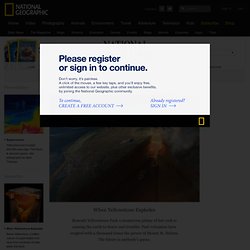 Looking to the south, he noticed that something was missing from a stretch of the Rocky Mountains: mountains. For miles and miles, the only elevations were in the distance, forming parentheses around a huge forested basin. Doane saw only one way to explain the void. "The great basin," he wrote, "has been formerly one vast crater of a now extinct volcano. " Yellowstone Has Bulged as Magma Pocket Swells. The simmering volcano has produced major eruptions—each a thousand times more powerful than Mount St.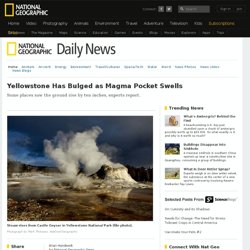 Helens's 1980 eruption—three times in the past 2.1 million years. Yellowstone's caldera, which covers a 25- by 37-mile (40- by 60-kilometer) swath of Wyoming , is an ancient crater formed after the last big blast, some 640,000 years ago. (See "When Yellowstone Explodes" in magazine.) GRAND TETONS NATIONAL PARK. Louisiana Representatives. Lousiana State University System.
LSU Shreveport. Louisiana State University. New Orleans. NOLA.com. New Orleans Things To Do. New Orleans Local. Street Art. New Orleans Events and Calendar - New Orleans, Louisisana.
---