Twitter-related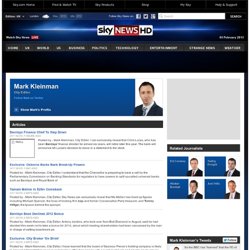 Exclusive: Kingdom Eyes Twitter Stake Mark Kleinman October 20, 2011 11:39 AM The ultra-wealthy Saudi investor who owns stakes in Citigroup and News Corporation is examining a swoop on the internet industry that would involve acquiring hundreds of millions of dollars-worth of shares in Twitter, I have learned. Prince Alwaleed bin Talal, who sits at the helm of Kingdom Holding, is understood to have held talks with at least one of Twitter's co-founders about acquiring part of their shareholding in the microblogging site.
Exclusive: Kingdom Eyes Twitter Stake | citigroup | twitter | news_corporation | Kleinman
Rupert Murdoch: How Twitter tracked the MPs' questions - and the pie | Media
Business Insider broke the news today that the Federal Trade Commission is investigating Twitter apparently due acquisition tactics of applications. Twitter had begun offering "official" versions of apps by way of acquisition back in 2010 with some notable apps including Tweetie and TweetDeck. Entrepreneur Bill Gross had also started buying Twitter apps under a company named TweetUp. Gross was looking to acquire TweetDeck and had received funding from Accel in order to do so. Twitter then began shutting down a handful of Gross's apps and ended up purchasing TweetDeck for itself.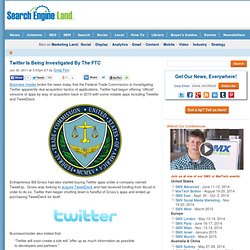 Twitter Is Being Investigated By The FTC
Twitter chief picked as Obama telecom advisor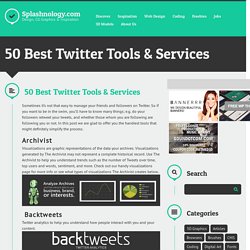 AndrewG, March 17, 2011 Sometimes it's not that easy to manage your friends and followers on Twitter. So if you want to be in the swim, you'll have to know many things; e.g. do your followers retweet your tweets, and whether those whom you are following are following you or not. In this post we are glad to offer you the handiest tools that might definitely simplify the process. Archivist