Fonts
Articles, Resources September 6, 2012 Picking up the right typography is one of the most critical aspects in making a successful design. Most designers today are taking the risk of going out of the box in terms of choosing the right font style in their projects. Customization and having a unique look that stands out among other designs is one effective concept we always see on prints, websites, motion pictures, advertising and other fields of the graphic design industry. One way in achieving this customization concept is for a designer to look for a unique typography.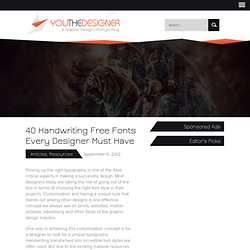 Removing non-english fonts from ubuntu | Mark's Notebook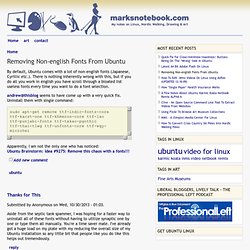 By default, Ubuntu comes with a lot of non-english fonts (Japanese, Cyrillic etc.). There is nothing inherently wrong with this, but if you do all you work in english you have scroll through a bloated list useless fonts every time you want to do a font selection. andrew@thisblog seems to have come up with a very quick fix.
How to install local fonts in Ubuntu Linux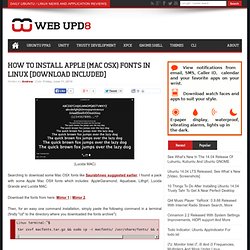 How To Install Apple (MAC OSX) Fonts In Linux [Download Included
(Lucida MAC) Searching to download some Mac OSX fonts like Saurabhneo suggested earlier, I found a pack with some Apple Mac OSX fonts which includes: AppleGaramond, Aquabase, Lithgrl, Lucida Grande and Lucida MAC. Download the fonts from here: Mirror 1 | Mirror 2.
How to Install Fonts in Ubuntu / Linux Mint
Windows Vista and Microsoft Office 2007 introduce the new ClearType Collection typefaces: Calibri, Cambria, Candara, Consolas, Constantia, and Corbel. They replace the classics Times New Roman, Arial, Courier New, etc. When passing documents between systems, it's necessary to have the same: otherwise, documents look and layout may suffer. If you get an Office Open XML .docx or .pptx, chances are you need these new fonts, but OpenOffice.org, Linux, and Windows XP users need not be left out in the cold. Until Red Hat creates new metrically equivalent fonts (as it did for the older Microsoft fonts), it's easy to install these new Microsoft fonts without Vista or Office.
Install Free Office 2007 Fonts for Linux and XP - OpenOffice.org Ninja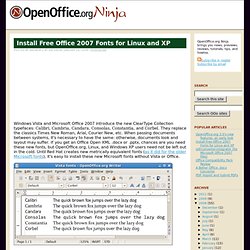 Not that long ago I was looking for some nice sketchy font to use in my project. There are not so many good quality sketchy fonts so I am sharing with you ten of them I liked the most. Caitlyn Sketchy Sketch Rockwell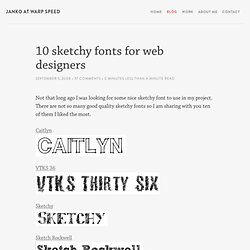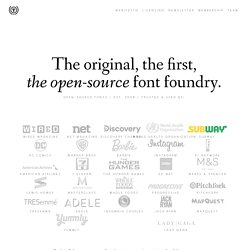 We're done with the tired old fontstacks of yesteryear. The web is no longer limited, and now it's time to raise our standards. Since 2009, The League has given only the most well-made, free & open-source, @font-face ready fonts. Like any revolution, we aim to make progress, & we need help. If you want to be a part of the movement, you should join us or subscribe to the newsletter. If you have any questions about The League or contributing, get in touch.
The Internet is full of gazillions of fonts that can, at times, make life tough if you are looking to find the name of a particular font. You know, those situations where you have the font but you don't have its name? You know it will work. You like it.
5 Tools To Help You Identify Any Font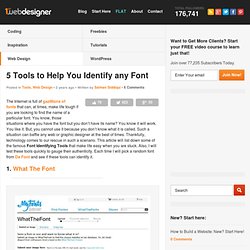 Spring is upon us, and today I bring you a diverse selection of five free fonts, each with its own angle and story. We've got one for the coders, and one classic open-source font that you probably already have (but need to use more!), a classy-looking serif, a playful retro piece, and last but certainly not least, a font with an amazing animation video showcasing it. Tamsyn Coders need to stare at text all day long, and they have very particular demands. The zeroes must be crossed and easy to tell apart from the Os, the font must be monospaced (of course), and the font should preferably be cross-platform so that you don't get disoriented when switching between operating systems.
Free Font Friday: Hidden Gems, Monospaced Fonts & a Gorgeous Font Video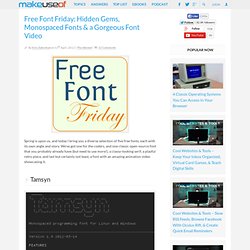 20 Hand Picked Tremendous Modern Gothic Fonts
Gothic fonts most often are referred as Ancient and Out-Dated fonts but in this modern era there are designers who are very interested in Gothic Category of fonts. They have added Modern touch in these old-styled fonts which makes them more elegant and beauteous. From the mash-up of irregularity and slanted ascender serifs, contrast of light and heavy strokes of original gothic fonts and regular shape and hairline serifs with heavy downstrokes of modern fonts, we can always expect extra ordinary result.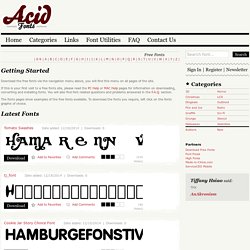 Download the free fonts via the navigation menu above, you will find this menu on all pages of the site. If this is your first visit to a free fonts site, please read the PC Help or MAC Help pages for information on downloading, converting and installing fonts. You will also find font related questions and problems answered in the F.A.Q. section. The fonts pages show examples of the free fonts available. To download the fonts you require, left click on the fonts graphic of choice.
Though there's a broad variety of fonts available for download online, designers keep on tracing the fresh ones to enhance their design copy, a website, brochure, or even an advertisement in a brand new an' awesome way. Still, the free stuff could not always boast of good quality – premium goodies always demand some kind of money investment. However, now it's possible to find the appropriate font that's free, clear, beautiful, and effective for design purposes.
graphics tutorials textures etc