iPad in Education
Get flash to fully experience Pearltrees
Rating: 5.0/ 5 (1 vote cast)
Lisa Johnson from Techchef4u has put all of her iPad lessons onto Pinterest. This is like finding the the mother load of iPad gold.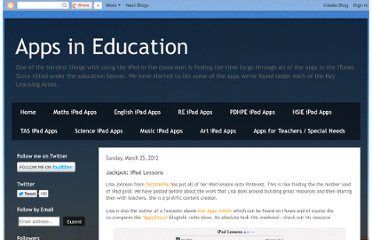 There are two interesting pieces of information this morning on the new iPad. If used solely as an LTE MiFi, AnandTech got a mind-numbing 25.3 hours of Verizon LTE hotspotting out of the new iPad. That is equal to about five to seven MiFis.
When I was at SXSWedu last month, I attended a presentation by folks from KinderTown , a company specializing in iOS apps for preschool kids. KinderTown is not a team of developers, instead they bill themselves as "working hard to find the best educational apps for children. Each app we select has been tested and reviewed by educators, parents, and most importantly, children.
Out of 125 responses from teachers indicating their top 3 apps, these are the apps that were listed most often. Over the last few weeks, we ran a survey asking teachers to tell us about two or three of their favorite iPad apps that they use in an education-related context. Today we share the apps that were listed most often, and include some feedback from teachers regarding why they like them so much.
A Media Specialist's Guide to the Internet Because you never know when you'll need a cybrarian.....