SW
openmeeting
No more sending your stuff back and forth via email, just set up a pad, share the link and start collaborating! Etherpad allows you to edit documents collaboratively in real-time, much like a live multi-player editor that runs in your browser. Write articles, press releases, to-do lists, etc. together with your friends, fellow students or colleagues, all working on the same document at the same time. All instances provide access to all data through a well-documented API and supports import/export to many major data exchange formats. And if the built-in feature set isn't enough for you, there's tons of plugins that allow you to customize your instance to suit your needs. You don't need to set up a server and install Etherpad in order to use it.
What is it ?Droopy is a mini Web server whose sole purpose is to let others upload files to your computer. Why ? Say you're chatting with a friend on MSN Messenger (perhaps with the excellent pidgin ?). She wants to send you amazing photos she took last week-end, so she uses Messenger file transfer.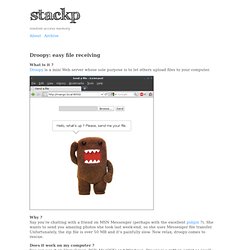 stackp — Droopy: easy file receiving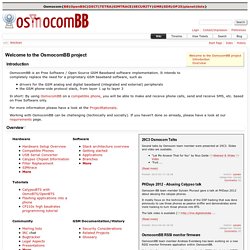 BB
Introduction ¶ OsmocomBB is an Free Software / Open Source GSM Baseband software implementation. It intends to completely replace the need for a proprietary GSM baseband software, such as drivers for the GSM analog and digital baseband (integrated and external) peripherals the GSM phone-side protocol stack, from layer 1 up to layer 3 In short: By using OsmocomBB on a compatible phone, you are able to make and receive phone calls, send and receive SMS, etc. based on Free Software only.
Bret Victor et le futur des interfaces de développement
Bret Victor est un concepteur logiciel/développeur/visionnaire. Il a travaillé 4 ans chez Apple et a plus récemment travaille sur l'excellent livre interactif Our Choice sur iPad. Hier matin, la toile était en ébullition devant une vidéo d'une conférence de Bret Victor au CUSEC2012 : "Inventing on Principle".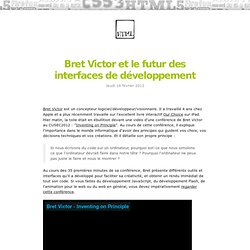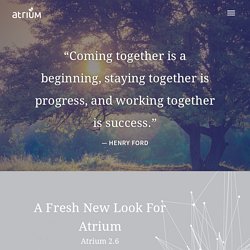 Open Atrium is open source collaboration software that enables organizations to securely connect their teams, projects, and knowledge. A powerful solution, Open Atrium's framework allows your organization to easily integrate your existing software, while remaining flexible enough to change as your organization grows. With Open Atrium, you can better communicate, educate, and inform your organization by creating solutions such as an intranet, social collaboration platform, web portal, or learning management system.
Accueil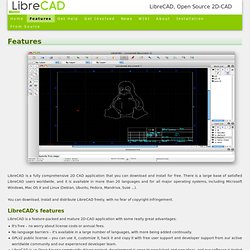 Features
LibreCAD is a fully comprehensive 2D CAD application that you can download and install for free. There is a large base of satisfied LibreCAD users worldwide, and it is available in more than 20 languages and for all major operating systems, including Microsoft Windows, Mac OS X and Linux (Debian, Ubuntu, Fedora, Mandriva, Suse ...). You can download, install and distribute LibreCAD freely, with no fear of copyright infringement. LibreCAD is a feature-packed and mature 2D-CAD application with some really great advantages: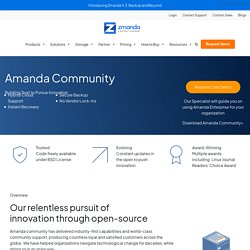 Amanda is the most popular open source backup and recovery software in the world. Amanda protects more than a million servers and desktops running various versions of Linux, UNIX, BSD, Mac OS-X and Microsoft Windows operating systems worldwide. Key Reasons for Wide Adoption of Amanda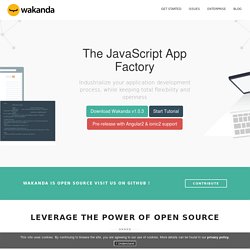 Please join Greg McCarvell, Wakanda Director of Business Development, and Ricardo Mello, Wakanda Product Director, as they go over the latest information about the Wakanda platform. Topics to be covered will include the new widget architecture available starting in Wakanda 8, the upcoming release of Wakanda Enterprise and much more! Join us for the fun! Thursday, January 30th at 9 a.m. PST