SW
openmeeting
What is it ? Droopy is a mini Web server whose sole purpose is to let others upload files to your computer. Why ? Say you're chatting with a friend on MSN Messenger (perhaps with the excellent pidgin ?). She wants to send you amazing photos she took last week-end, so she uses Messenger file transfer.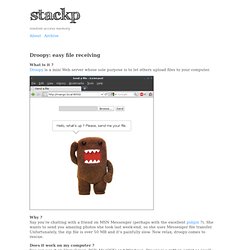 stackp — Droopy: easy file receiving
BB
Bret Victor et le futur des interfaces de développement
Bret Victor est un concepteur logiciel/développeur/visionnaire. Il a travaillé 4 ans chez Apple et a plus récemment travaille sur l'excellent livre interactif Our Choice sur iPad. Hier matin, la toile était en ébullition devant une vidéo d'une conférence de Bret Victor au CUSEC2012 : " Inventing on Principle ".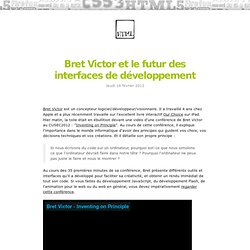 Accueil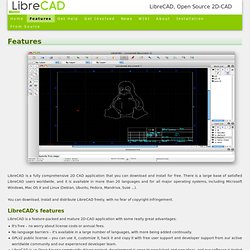 Features
LibreCAD is a fully comprehensive 2D CAD application that you can download and install for free. There is a large base of satisfied LibreCAD users worldwide, and it is available in more than 20 languages and for all major operating systems, including Microsoft Windows, Mac OS X and Linux (Debian, Ubuntu, Fedora, Mandriva, Suse ...). You can download, install and distribute LibreCAD freely, with no fear of copyright infringement. LibreCAD is a feature-packed and mature 2D-CAD application with some really great advantages:
Amanda Open Source Backup