Third Cycle
Website Analysis & Internet Marketing | WooRank. Líder en Web Application Acceleration y Gestión del Rendimiento, Streaming de Medios y Entrega de Contenidos. Swfobject - SWFObject is an easy-to-use and standards-friendly method to embed Flash content, which utilizes one small JavaScript file. Getting started Welcome!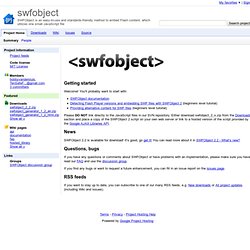 You'll probably want to start with: Please DO NOT link directly to the JavaScript files in our SVN repository. Either download swfobject_2_x.zip from the Downloads section and place a copy of the SWFObject 2 script on your own web server or link to a hosted version of the script provided by the Google AJAX Libraries API. News. Activetuts+ | Browser app and game development tutorials, from beginner to advanced.
Tutorials. Web development tutorials, from beginner to advanced. Online Advertising Marketplace | BuySellAds.com.
PHP
HTML5. Ruby. CSS. Create unique websites without writing code | Muse (code name) Aprendizaje para todos, por todos y acerca de casi todo. Downloads. Adobe Labs provides the latest prerelease software from Adobe.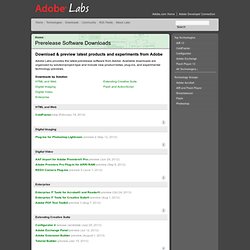 Available downloads are organized by solution/project type and include new product betas, plug-ins, and experimental technology previews. Downloads by Solution HTML and Web ColdFusion beta (February 19, 2014) Digital Inspiration - Technology Blog. W3Schools Online Web Tutorials. W3Schools Online Web Tutorials.
---