Funny
I waste so much time. Show Me Your Money Face! Proving that money can buy happiness, these money/face mashups are stacking up quick around the web.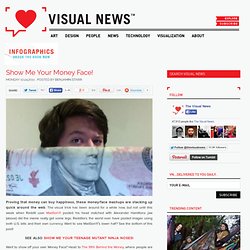 The visual trick has been around for a while now, but not until this week when Reddit user MadSon11 posted his head matched with Alexander Hamiltons jaw (above) did the meme really get some legs. Redditors the world over have posted images using both U.S. bills and their own currency. Want to see MadSon11′s lower half? The Escalator of Doom. Jeue4.png (PNG Image, 465x348 pixels) Words on Pictures. Again. | SadAndUseless.com. Antidepressant. Barrel-monster-434x499-755052.jpg (JPEG Image, 434x499 pixels) Tales Of The Stoner Sage: Conspiracy Keanu. Portraits of Dogs as They Shake Off Water. Dog-sandals.jpg from geekfill.com.
How-women-and-men-see-colors.jpg from todayilearned.co.uk - StumbleUpon.
---