Social media policy
57 Social Media Policy Examples and Resources. Over time I've found myself doing more and more foundational work for organizations looking to dip their toes into social media.
One of the key elements of this work, in my opinion, is creating a social media policy that fits well with the organization's goals, culture and risk tolerance. But where to start? Social Media Policy | Moïse et ses tables. Politique de médias sociaux versus stratégie de médias sociaux. It can certainly be said that social media outlets are here to stay with Facebook now touted as the most popular activity on the Internet (one can guess what it pulled ahead of).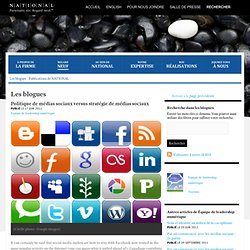 Canadians contribute largely to this trend and are among the world's most active users of social media. Like any communications medium, social media should be considered and approached in a manner appropriate to your organization. Une charte d'usage pour les média sociaux. La Social Media Policy est une tendance très américaine dont l'on commence à entendre parler de ce côté-ci de l'Atlantique.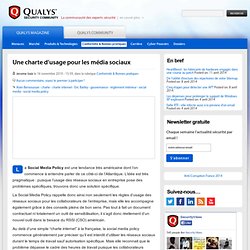 L'idée est très pragmatique : puisque l'usage des réseaux sociaux en entreprise pose des problèmes spécifiques, trouvons donc une solution spécifique. La Social Media Policy rappelle donc ainsi non seulement les règles d'usage des réseaux sociaux pour les collaborateurs de l'entreprise, mais elle les accompagne également grâce à des conseils pleins de bon sens. Social Media Policy: une méthodologie. Online Database of Social Media Policies. Anatomy of a Social Media Policy. "I need your help!"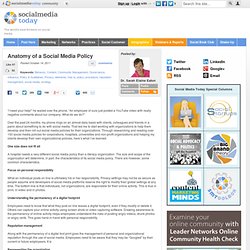 He wailed over the phone. "An employee of ours just posted a YouTube video with really negative comments about our company. What do we do?" Over the past 24 months, my phone rings on an almost daily basis with clients, colleagues and friends in a panic about something to do with social media. That led me to start working with organizations to help them develop and then roll out social media policies for their organizations.
---