Open Innovation Initiatives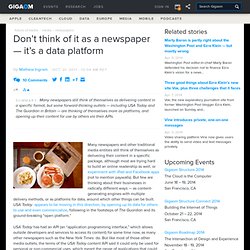 Don't think of it as a newspaper — it's a data platform
Many newspapers and other traditional media entities still think of themselves as delivering their content in a specific package, although most are trying hard to build an online readership as well, or experiment with iPad and Facebook apps (not to mention paywalls). But few are thinking about their businesses in radically different ways — as content-generating engines with multiple delivery methods, or as platforms for data, around which other things can be built. USA Today appears to be moving in this direction, by opening up its data for others to use and even commercialize, following in the footsteps of The Guardian and its ground-breaking "open platform." USA Today has had an API (an "application programming interface," which allows outside developers and services to access its content) for some time now, as many other newspapers such as the New York Times do.
Home - Technology Transfer, Intellectual Property and Patent Exchange, IP Licensing Marketplace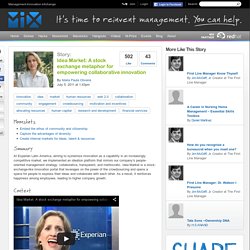 Combining the Experian Latin America's people-oriented culture, in late 2008 we conceived a web ideation platform called Idea Market. It functions as a metaphor of a stock market, in which employees act like . By doing this, Idea Market extracts the wisdom of the crowds to improve Experian's decision on which ideas should get attention from the board, . It also builds an entrepreneurial environment where employees engage themselves to their contributions. Furthermore, it fosters and recognizes employees' collaboration and provides a recognition & reward framework based on accumulated amount of a virtual currency (EXP$, or Experians). The platform was developed with the assistance of an external consultancy firm.
Idea Market: A stock exchange metaphor for empowering collaborative innovation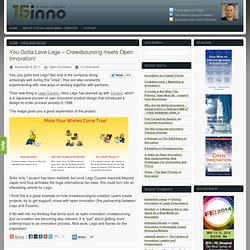 You Gotta Love Lego – Crowdsourcing meets Open Innovation!
Yes, you gotta love Lego! Not only is the company doing amazingly well during this "crisis"; they are also constantly experimenting with new ways of working together with partners. Their new thing is Lego Cuusoo. Here Lego has teamed up with Cuusoo, which is a Japanese pioneer of user innovative product design that introduced a design-to-order process already in 1998. This image gives you a good explanation of the project:
Open Innovation - Innovation Exchange