Economics
Pocket : The Perception Gap: what customers want and what executives think they want [infographic] Looking Forward By Looking Back: Axel Leijonhufvud Interviews Friedrich Hayek. INET Advisory Board member Axel Leijonhufvud has consistently pointed to the need for new economic thinking to grapple with the novel challenges of our recent economic crises.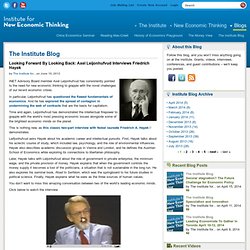 In particular, Leijonhufvud has questioned the flawed fundamentals of economics. And he has explored the spread of contagion in undermining the web of contracts that are the basis for capitalism. Time and again, Leijonhufvud has demonstrated the intellectual firepower to grapple with the world's most pressing economic issues alongside some of the brightest economic minds on the planet.
Economics of information
Multi-sided Markets. Thomas J. Sargent. Game Theory. Schumpeter: Angst for the educated. Prediction Théory/Risks/uncertainty. Theory. Front Page. Behavioral Economics. Hal R. Varian. Innovation.
---